Testingfg of Ads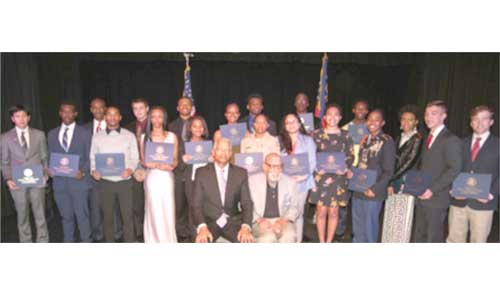 Congressman Hank Johnson and Tuskegee Airmen Val Archer (center) join 2019 U.S. Service Academy nominees for a picture on Feb.4 4 at the ART Station in Stone Mountain.  
Rep. Hank Johnson celebrates U.S.
Service Academy nominations
Congressman Hank Johnson (GA-04) has announced his office nominated 35 students to attend a U.S. Service Academy: Military Academy (West Point), Naval Academy, Air Force Academy, Coast Guard Academy, the Merchant Marine Academy and the ROTC.
This year's 35 nominees are the most for any single year nominated by Rep. Johnson.
Two students were nominated for the Merchant Marines, 14 for the Navy, seven for the Air Force, 10 for West Point and 12 for the ROTC.
The Congressman's office will announce official service academy appointments between May and June.
Every year, members of Congress nominate students to attend the nation's military academies. Those nominees who are accepted into the academies are awarded four-year scholarships that include tuition, books, room and board, medical and dental care. The average award per appointment is worth $425,000. The 12 ROTC students will receive scholarship funds that total $120,000.
"Each year, I consider it an honor to send you off on your journey to our esteemed institutions where you will be educated, trained, and inspired to help shoulder the wheel in defense of our nation," Johnson told the students at a reception held at the Art Station in Stone Mountain. "All of you are outstanding young people and you have the kind of leadership skills necessary to be successful in school, business and in life."
This year's February reception included a special guest who is the embodiment of black history. World War II veteran Val Archer, who served as a Tech Sgt. with the Tuskegee Airmen, was on hand at the reception to join Johnson in taking pictures with the Service Academy nominees and their families.
"I want to thank Mr. Archer for his service and commitment to our great nation," said Johnson. "This night is very special to me because I know that the young people here with us today are some of the future protectors of our prosperity and freedoms that make this nation great."
| | | | | |
| --- | --- | --- | --- | --- |
| Student | Nominated to | School | Age | |
| Abigail Flores | ROTC | Columbia High School | 17 | |
| Alex Burgess | West Point | Woodward Academy | 18 | |
| Alexander Kirkland | Air Force | Brookwood High School | 18 | |
| Alexander Mobley | West Point/Air Force/ Navy | Gwinnett Online Campus School | 17 | |
| Ana'Lise Ballard-Smith | ROTC | Martin Luther King, Jr. High School | 17 | |
| Brian Hauch | Air Force | Parkview High School | 17 | |
| Cierra Goodson | ROTC | Martin Luther King, Jr. High School | 18 | |
| Cody Domingue | Air Force | Lakeside High School | 18 | |
| Daniel Lett | Air Force | Grayson High School | 17 | |
| Darielicia Finley | Merchant Marines/West Point/Navy | Southwest DeKalb High School | 18 | |
| Emily Toma-Harrold | Navy/West Point | Atlanta Girls School | 17 | |
| Gabrielle Simmons | ROTC | Martin Luther King, Jr. High School | 17 | |
| Gustavo Valdes | Navy | Notre Dame Academy | 17 | |
| Jaison Taylor | Navy | Newton High School | 18 | |
| Jalen Clark | Navy | Marist School | 18 | |
| James Walters | Navy | South Gwinnett High School | 17 | |
| Javia Robinson | ROTC | Martin Luther King, Jr. High School | 18 | |
| Jazmine Winston | ROTC | Columbia High School | 17 | |
| Je'Niya Culbreath | Navy/West Point | Stephenson High School | 17 | |
| John Buckley Jr. | Merchant Marines | Eagle's Landing Christian Academy | 18 | |
| Jordyn Bonds | Navy | Newton High School/NCCA | 18 | |
| Justin Bennett | Navy/ West Point | Columbia High School | 18 | |
| Justin Nelson | Navy | Arabia Mountain High School | 18 | |
| Khushi Patel | West Point | Tucker High School | 18 | |
| Madison Wheat | ROTC | Martin Luther King, Jr. High School | 17 | |
| Marquis Taylor | ROTC | Martin Luther King, Jr. High School | 18 | |
| Mason Fortson | West Point | Miller Grove High School | 19 | |
| Miracle Crawl | ROTC | Columbia High School | 18 | |
| Nicholas Wilkins | ROTC | Martin Luther King, Jr. High School | 17 | |
| Paul Stanley | Air Force/West Point/Navy | Parkview High School | 18 | |
| Ricquaine Barnes | ROTC | Martin Luther King, Jr. High School | 17 | |
| Skye Williams | West Point/Navy | South Gwinnett High School | 18 | |
| Trisha Warren | Air Force/Navy | Arabia Mountain High School | 18 | |
| Vivian Copeland | ROTC | Greater Atlanta  Adventist Academy | 18 | |
| Zion Lockhart | Navy | Arabia Mountain High School | 18 | |