Testingfg of Ads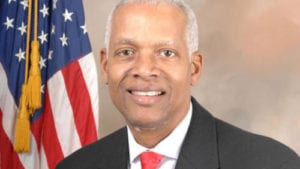 Congressman Hank Johnson, who represents Georgia's Fourth District,covering portions of DeKalb, Gwinnett and Rockdale counties, condemned President Trump's response to the deadly violence in Charlottesville, Virginia.
The violence broke out over the weekend when hundreds of white supremacists who staged a "take America back" demonstration clashed with counter protestors. A car plowed into the crowd killing one woman and injuring 19 others. Two state troopers responding to the scene were killed in a helicopter crash.
Johnson issued the following statement on Aug. 16 following remarks by Trump concerning the protest:
"Tuesday's comments from President Trump that compared counter protestors with neo-Nazis and white supremacists – and doubling down that there were 'very fine people' among the hate groups should be met with censure proceedings in the House of Representatives. President Trump's intentional and not-so subtle appeals to the sentiments of racists before, during and after the election makes him directly responsible for the empowered emergence of in-your-face racism that has no place in America."
Atlanta residents have started petitions and called for city streets bearing the name of the Confederacy or Confederate leaders to be renamed.
Atlanta Mayor Kasim Reed said in a statement he released:
"I will carefully consider these petitions, because symbols matter, and as those espousing hate-filled ideologies grow bolder, we must grow stronger in defense of our values.
Atlanta stands with Charlottesville, and I stand with Mayor Michael Signer, and with all leaders who denounced violence and white supremacy in the face of equivocation from the President."
The National Council of Negro Women also condemned the violence in Charlottesville.
"Fringe groups who seek to terrorize and take innocent lives discredit their cause, their country and themselves. The First Amendment to the U.S. Constitution guarantees every American the right to peacefully express his/her views on matters of policy and principle, no matter how extreme or nonsensical. But no American has the right to resort to senseless violence to make a political or economic point," the organization stated in a release.