Testingfg of Ads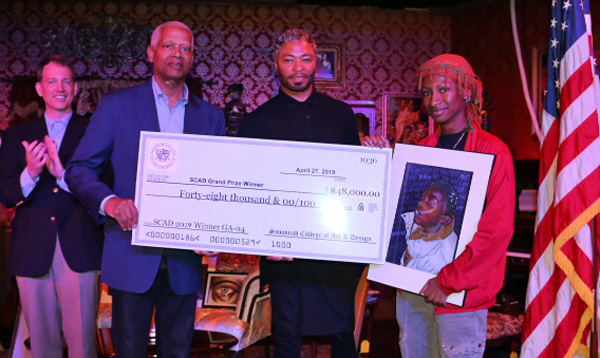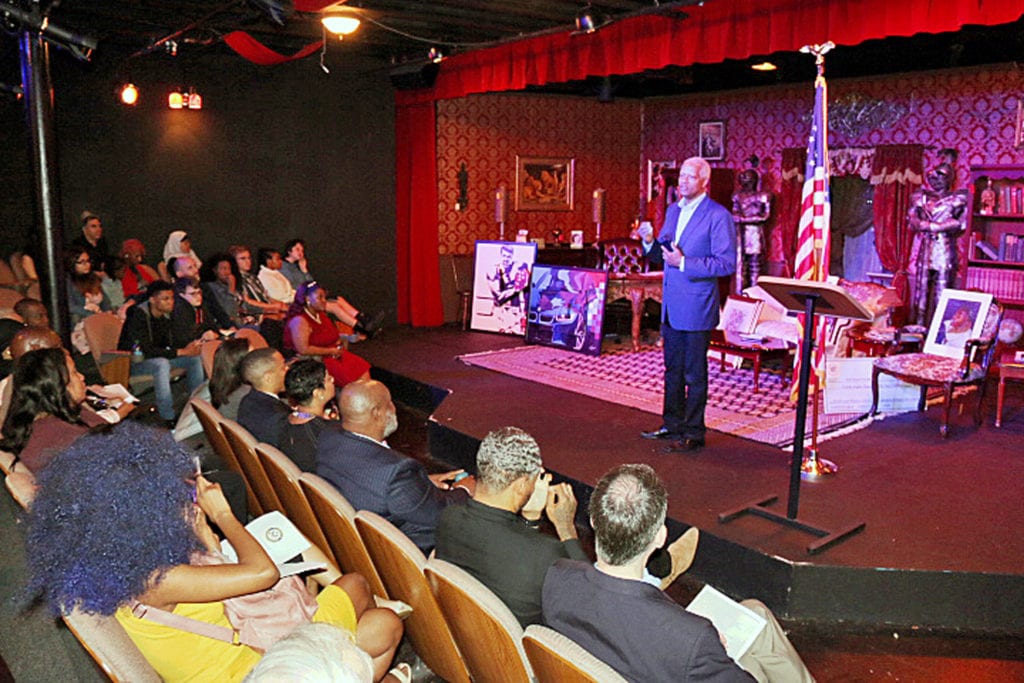 Grand Prize recipient Imani Sylvain poses for a picture with Congressman Hank Johnson and Octavius Terry after being announced as the grand prize winner of the 2019 art competition.
Congressman Hank Johnson addresses a crowd of parents, teachers, students and other members of the community at his 2019 Congressional Art Competition reception in Stone Mountain.
On April 27 at his Congressional Arts reception, Congressman Hank Johnson (GA-04) announced the winners of his 2019 Congressional Arts Competition at the ART Station Theatre in Stone Mountain.
Four students were awarded college scholarships worth more than $69,000.
The grand prize winner was Imani Sylvain, a South Gwinnett High School senior. Sylvain earned a four-year scholarship worth $12,000 a year, to attend the Savannah College of Art & Design (SCAD) for her "My Brother's Keeper" color pencil and sharpie paint piece. She will travel to Washington, D.C., in June to see her work displayed at the U.S. Capitol, where it will hang for a year with other Congressional Art Challenge winners from around the country.
First runner-up was Angel Ahuabue, a junior at Parkview High School. Ahuabue won a $12,000 scholarship to the Art Institute of Atlanta for her "White Only" photograph.
Her work will be displayed in Congressman Johnson's district office for a year.
Second runner-up went to Immanuel Sheffield, a junior at Camp Jewel House STEM School. Sheffield was awarded a $7,500 scholarship to the Art Institute of Atlanta for his "The eye of yah" pencils and pens piece.
Third runner-up was Isabella Hernandez, a senior at Parkview High School in Gwinnett County. She was awarded a $3,500 scholarship to The Art Institute of Atlanta for her "Looking Back" charcoal piece.
Congressman Johnson's District Office will also display the work of Sheffield and Hernandez for a year.
Since 2007, Congressman Johnson has awarded more than $400,000 in arts scholarships to Fourth District students.
"The arts are extremely important for our young people. Today's art represents the freedom our students have to express their feelings and emotions in whatever medium they choose," said Congressman Johnson. "When you think about it, this competition should gratifying to all of us because these young artists are sharing their lives with us."
Nearly 40 high school students from throughout the district submitted artwork competing for the four scholarships.
Judges for the 2019 Art Competition were: Rob Turner, City of Stonecrest Councilman, Meg Williams, High Museum of Art Coordinator of School and Techer Teacher Services, Bob Trammell, State House Minority Leader, Kendra Price, Emory University Government Affairs Manager; and David Cardwell, III, an artist and student at Georgia State University.
All art competition students were also recognized by celebrity stylist Octavius Terry, who now serves as the Fashion Program Coordinator and Professional Fashion Designer at the Art Institute of Atlanta. The Champion Theme Middle School Jazz Ensemble performed throughout the reception and received an honor from the Congressman for their participation in the event.