Testingfg of Ads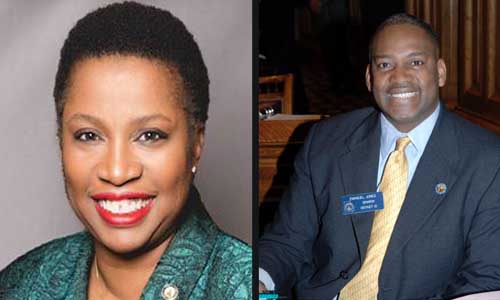 State Rep. Doreen Carter and State Sen. Emanuel Jones
ATLANTA – State Rep. Doreen Carter (D-Lithonia) will host a virtual town hall meeting to discuss the proposed construction of a Metro Green recycling plant in a Stonecrest neighborhood on Thursday, July 2, 10 a.m. To register for the virtual town hall meeting, please click here.
Carter will be joined by State Sen. Emanuel Jones (D-Decatur). Additionally, Carter has invited city and county officials, along with representatives from Metro Green, to participate in the virtual town hall meeting.
The proposed Metro Green recycling plant would be located at 5152 Snapfinger Woods Drive in Stonecrest, a residential area. According to the City of Stonecrest zoning codes, the proposed plant would be permitted use of the land. The site would be located approximately one mile from Miller Grove Middle School, and it would be surrounded by homes, apartment complexes and churches.
Carter says she has received questions from residents regarding why the project did not go before the City Council before being approved for permitting.
"Today more than ever, communities of color need elected officials who will fight for their quality of life," said Carter. "That protection should extend to their physical environment as well. I think that it is important for each of us to come together to ensure that we have the best solution for our constituents to ensure that we are governing with their best interest at heart."
The virtual meeting will be available: https://bit.ly/38fLhcW