Testingfg of Ads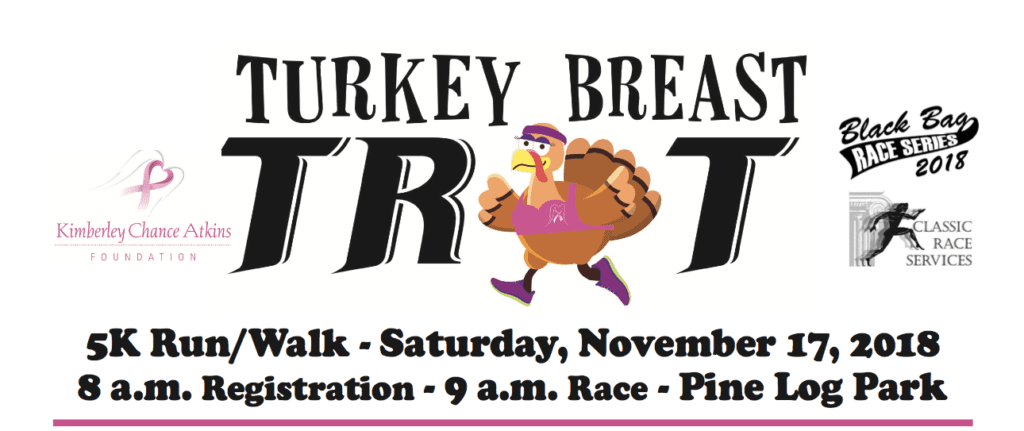 There's still time to register to participate in the 2nd Annual Turkey Breast Trot to help breast cancer prevention and awareness initiatives of the Kimberley Chance Atkins Foundation (KCAF).  Proceeds support KCAF initiatives such as funding mammograms for uninsured or underinsured women and me and providing scholarships for high school seniors pursuing education toward a career in healthcare.  The race will be held on Saturday, November 17. Registration begins at 8 a.m.  The 5K Run/Walk starts at 9 a.m. from Pine Log Park.  Register by November 9 to be guaranteed a t-shirt.
The race begins and ends at Pine Log Park.  Wear pink as you run or walk in the Turkey Breast Trot on the race trail that winds through the newest addition to Conyers' PATH Trail stretching from Pine Log Park to Olde Town Conyers. Take in the beauty of wooded stretches along the course, a bridge and a few hills along the way. This is an out and back course on the PATH multi-purpose, concrete trail.  The Turkey Breast Trot is a professionally timed event by Classic Race Services and is part of the 2017 Black Bag Race Series.  (No strollers or pets, please.)  Parking is available at Pine Log Park via the Highway 1238 entrance.
Register and pay online at www.kimatkins.net.  The cost per runner is just $30.  Each runner receives a commemorative long-sleeved t-shirt.  Awards will be presented for the overall male/female, masters male/female, and top three runners in various age brackets presented at a post-race awards ceremony.  Turkey Breast Trot participants are also eligible for door prizes featuring Thanksgiving Dinner treats!
If you would like to support the KCAF and receive a race t-shirt, but are unable to run on race day, you can register as a Phantom Runner for just $35.  Simply visit www.kimatkins.net and follow the prompts to Phantom Runner.
The Kimberley Chance Atkins Foundation (KCAF) is dedicated to promoting prevention and breast health awareness through regular screenings, mammograms, and breast self-exams.  In addition, KCAF operates Kim's Closet at Rockdale Medical Center.  Kim's Closet is a place where women battling breast cancer, and other cancers, can go and obtain wigs, scarves, hats and other care items free of charge to help them as they are undergoing cancer treatments. The Closet is particularly designed for women with no health insurance or for those whose insurance does not cover wigs.  For more information about KCAF and Kim's Closet, please visit:  www.kimatkins.net.