Testingfg of Ads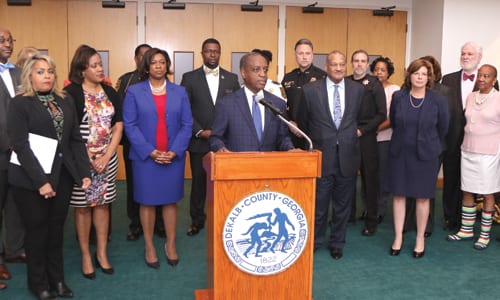 By Travis Hudgons
DeKalb County leaders are seeking to improve employment opportunities for those with minor arrests. At a Feb. 8 press conference, held at Saint Philip AME Church, officials gathered to announce DeKalb's first record restriction summit and job fair.
A record restriction, formerly known as expungement, is for those who have been arrested by DeKalb County Sheriff's Office, Marshals or Police but never convicted or pled guilty. Additionally, those who have successfully completed a pre-trial diversion program are also eligible to apply.
The press conference featured DeKalb CEO Michael Thurmond, Saint Philip Pastor, the Rev. William D. Watley, DeKalb County Circuit Public Defender Claudia Saari, DeKalb County Superior Court Clerk Debra DeBerry, DeKalb County Solicitor-General Donna Coleman-Stribling and DeKalb County District Attorney Sherry Boston. The county officials, surrounded by members of law enforcement and court employees, discussed guidelines, eligibility, and touted the benefits of the program.
"It's a second-chance opportunity for people who want to correct and improve their lives," Thurmond said. "This will allow citizens of this county to improve and increase the possibility of them accessing gainful employment."
"A criminal record can create barriers to housing opportunities, jobs and education," Saari said.
DeKalb County's job fair and record restriction summit will take place on April 21 at Saint Philip AME Church, 240 Candler Road S.E., Atlanta. Applications for record restrictions must be submitted prior to the event and online. The fee for the application process will be waived. The deadline to apply is March 23.
Those who wish to participate, must apply online at www.dekalbcountyga.gov/recordrestriction.
For more information, call 404-371-2770 or email: recordrestriction@dekalbcountyga.gov