Testingfg of Ads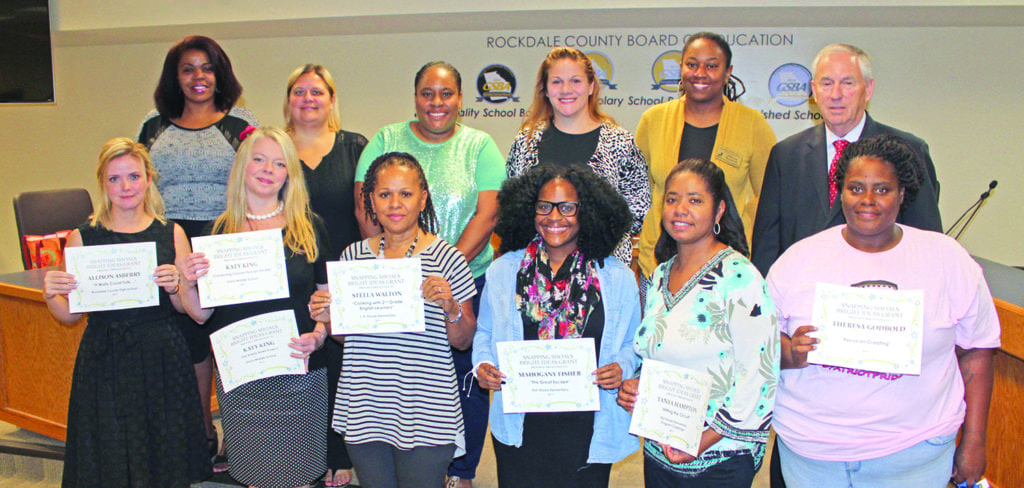 Rockdale County Public Schools teachers were awarded grants from the Snapping Shoals EMC for creative and innovative classroom projects that enriched the learning experience for students. Snapping Shoals Vice President of Engineering Services Todd Mooney presented $15,000 in grants to the teachers and their principals at a breakfast celebration on Oct. 11. The teachers were chosen out of more than 40 applicants.
The 2017 RCPS winners are:
"Cooking with 2nd Grade English Learners" (J.H. House Elementary) Orissa DePass, Stella Walton
"Aerospace Engineering Drone Flight Laboratory" (Conyers Middle School) Stephen Williams
"Brainybots" (Peek's Chapel Elementary) Joy Russell
"Models, Models, Models" (Heritage High) Melanie Hooley
"Connecting Conyers Through the Arts" (Gen. Ray Davis Middle) Katy King
"It's Electric!" (Hightower Trail Elementary) Jessica Bailey.
"Hitting the Circuit" (Flat Shoals Elementary/Program Challenge) Tanya Hampton
"If Walls Could Talk…" (Rockdale County High) Allison Asberry.
"The Empty Bowls Project" (Gen. Ray Davis Middle) Katy King.
"The Great Escape" (Flat Shoals Elementary) Mahogany Fisher.
"Video Streaming Our School News Show" (Flat Shoals Elementary) Allison Randall
"Focused on Creating" (Heritage HIgh/Pathways) Theresa Godbold