Testingfg of Ads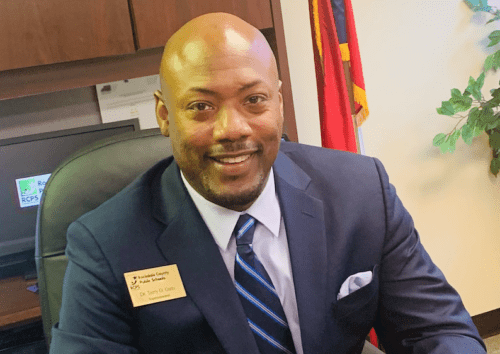 The Rockdale County Board of Education approved a three-year contract extension for Rockdale County Public Schools (RCPS) Superintendent Dr. Terry Oatts during the Sept. 10 work session.
Rockdale County Board of Education Chairwoman Mandy North praised Oatts' leadership.
"We appreciate Dr. Oatts for his leadership, engagement and commitment to the well-being and success of our students, families and employees," North said. "Dr. Oatts has done tremendous work the past two years, especially during these challenging times. He has gone above and beyond to set up Rockdale's families for success and prioritized the safety of our students and staff. We applaud his accomplishments and look forward to his continued leadership."
Board of Education Vice-Chairwoman Pam Brown concurred.
"Dr. Oatts has done an awesome job as Superintendent of Rockdale County Public Schools. He has consistently demonstrated a strong work ethic in carrying out his job. He has accomplished so much during the last two years. I particularly applaud his exemplary leadership during this pandemic. Great leaders must often make tough decisions."
Oatts thanked the board for he opportunity to continue serving as superintendent.
"I am most grateful to our Board for their vote of confidence in my leadership at the helm of Rockdale County Public Schools. I am indeed fortunate to work with such an exemplary board that prioritizes students' and staff's safety and well-being as well as their learning, achievement and growth," said Oatts.
Now in his third year as Superintendent, Oatts has amassed many accomplishments. Last fall, the 2019 College and Career Ready Performance Index (CCRPI) results showed Rockdale County Public Schools' first aggregate increase in its CCRPI Score in nearly four years. RCPS saw net gains in content mastery for the first time in several years, and middle schools saw significant increases in achievement and progress which resulted in middle schools exceeding the state's performance by more than six points. Readiness scores increased at the elementary, middle, and high school levels as measured by the CCRPI, which included a significant increase at our high schools in the Career, Technical, Agricultural Education (CTAE) pathway completion rate. RCPS also saw an increase in our Four-Year Cohort Graduation Rate over the previous year.
Under Dr. Oatts' leadership, there have been notable improvements to the district's security infrastructure including an acceleration of capital projects designed to enhance student and staff safety at each school site, the installation of  new surveillance systems and additional fencing at school sites using state security grant funding.
"I made a commitment almost immediately upon being sworn in that we would have all the remaining safety vestibules constructed at each of our schools before students returned for the 2019-20 school year. We kept that commitment, and we continue to establish additional layers of security at each of our school sites," said Oatts.
The district also has witnessed two major construction projects, funded by the E-SPLOST during Oatts' tenure. The Education Special purpose local option sales tax, which voters passed in a 2018 referendum,  is currently funding the new J.H. House Elementary School and the renovation and construction of the new RCPS Central Office Complex at the former Pine Street Elementary School site.
Oatts has also successfully recommended to the Board of Education three consecutive property tax millage rate reductions for Fiscal Years 2019, 2020 and 2021.
"I am very proud of the decisions we've made during my tenure regarding our district's finances which have, in part, resulted in our district having significantly increased its fund balance within the last two years. Our fiscal management as a governance team is to be commended," said Dr. Oatts.
Early during his tenure, Dr. Oatts, as part of an intergovernmental initiative, took the lead on working with Georgia Military College (GMC) to establish a Dual Enrollment institutional partnership as well as negotiating a Memorandum of Understanding that resulted in GMC agreeing to establish a collegiate presence in Rockdale County in early 2021 at the current RCPS Central Office location. "During the last year, I've been in constant communication and collaboration with GMC on the prospect of bringing GMC to Rockdale County. As Superintendent, my main objective for the GMC partnership is to afford our students an accessible and seamless postsecondary educational opportunity. Additionally, Rockdale County and the surrounding region could benefit from such a strategically located collegiate presence. I commend the Rockdale County Board of Education for their unwavering support of this initiative to bring a viable collegiate presence to the students and citizens of Rockdale County and beyond," Oatts said.
Of all his early accomplishments, Oatts cites his extensive school and community engagement, expansion of advisory councils, establishment of a comprehensive, multi-tiered leadership development program and the distribution of more school-level support as particularly impactful in working to build a positive district culture and climate.
"As Superintendent, I've expanded advisory councils to include establishing teacher and student advisory councils to hear directly from two of our most important stakeholders – teachers and students," Oatts said. "Also, we've established a viable leadership development program designed to identify and build leadership capacity among our staff at all levels. Additionally, we have begun a multi-year reorganizational effort that seeks to achieve greater organizational effectiveness and efficiency by ensuring optimal school improvement support."
Now in his 27th year in education,  Oatts previously served as Assistant Superintendent of Student Achievement in Fayette County Public Schools and spent the better part of a decade as a Title I elementary school principal, middle school principal, and high school principal in Henry County.
Oatts holds a B.S. degree in Communication Arts and three graduate degrees in education all from Georgia Southern University. His doctoral degree is in Curriculum Studies with an emphasis in Educational Leadership. He  emerged as the sole finalist in the spring of 2018 after a national search to fill the RCPS Superintendent vacancy.