Testingfg of Ads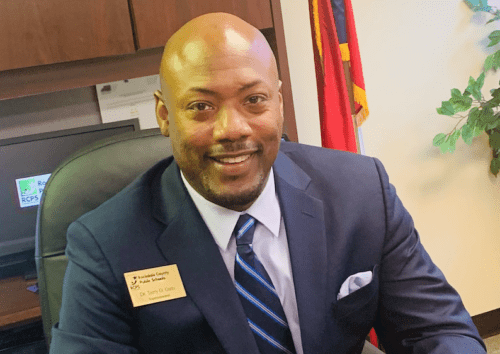 Rockdale County Public Schools (RCPS) Superintendent Terry Oatts was recently distinguished as part of the Atlanta Business Chronicle's "Who's Who in Education" for 2020. This special section honors the top men and women leading the way in K-12 and postsecondary education in metro-Atlanta.
"I am honored to join those of my colleagues who have been duly recognized by the Atlanta Business Chronicle as a top educational leader," said Oatts. "What I am most proud of is the progress we have made as a district during the last two years. While we certainly have more progress to make, we have already seen gains in achievement, increased our graduation rate, accelerated career pathway completion, increased Dual Enrollment participation, partnered with Georgia Military College to bring a collegiate presence to Rockdale County, empowered teacher and student voice by establishing advisory councils, and enhanced safety and security at our schools."
RCPS saw the overall score for the 2019 state College and Career Ready Performance Index (CCRPI), which measures schools and school districts on a 100-point scale, rise for the first time in four years. The district's four-year graduation rate also increased and remains above the state average, which increased for 2019. The graduation rate for RCPS increased to 82.7, up from 81.8, while the state average increased to 82.0 percent, up from 81.6 percent the previous year. The graduation rate for RCPS students involved in Career, Technical, and Agricultural Education (CTAE) programs rose even higher for 2019 – 96.37 percent – and RCPS has expanded its Career Pathway offerings to 31 in high school and eight middle school CTAE program offerings.
Now in his 27th year in education, Oatts, a 2016 graduate of the American Association of School Administrators' (AASA) inaugural cohort of the National Aspiring Superintendents Academy in Alexandria, Virginia and a participant in Harvard Graduate School of Education's 2017 National Institute for Urban School Leaders in Cambridge, Massachusetts, previously served on the ESSA (Every Student Succeeds Act) National Advisory Board.
Oatts is also a 2014 graduate of the Georgia School Superintendents Association's (GSSA) District Office Professional Development Program, and he is also a 2019 graduate of GSSA's 13th Cohort of the Superintendent Professional Development Program (SPDP). Oatts previously served as District 12 Director for the Georgia Association of Curriculum and Instructional Supervisors (GACIS) having represented the eight Griffin RESA districts, and he is currently serving a three-year term on the Georgia Cognia (formerly AdvancED) State Advisory Committee. Oatts currently serves on numerous advisory committees including the GSBA Superintendents' Advisory Council.