Testingfg of Ads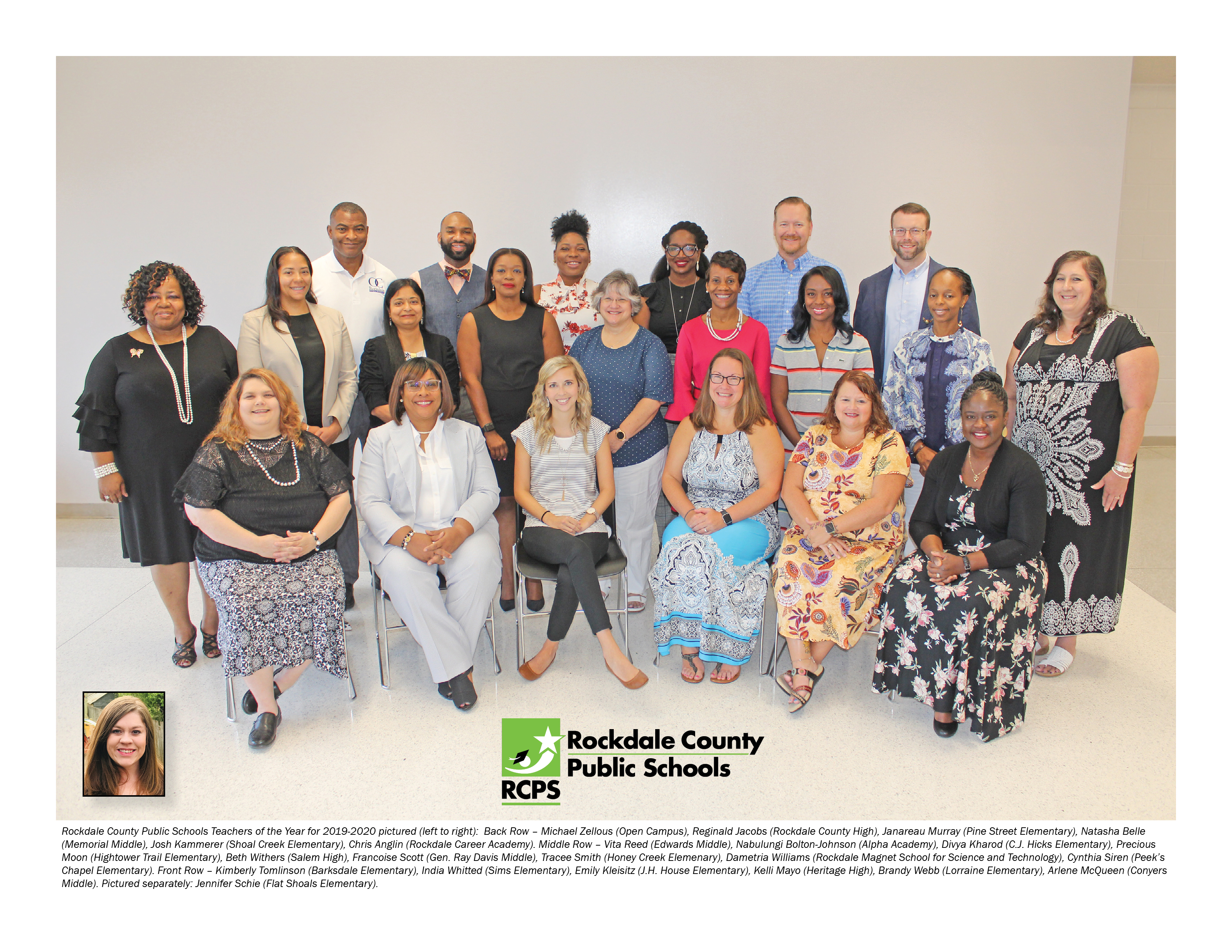 Rockdale County Public Schools Teachers of the Year for 2019-2020 pictured (left to right): Back Row – Michael Zellous (Open Campus), Reginald Jacobs (Rockdale County High), Janareau Murray (Pine Street Elementary), Natasha Belle (Memorial Middle), Josh Kammerer (Shoal Creek Elementary), Chris Anglin (Rockdale Career Academy). Middle Row – Vita Reed (Edwards Middle), Nabulungi Bolton-Johnson (Alpha Academy), Divya Kharod (C.J. Hicks Elementary), Precious Moon (Hightower Trail Elementary), Beth Withers (Salem High), Francoise Scott (Gen. Ray Davis Middle), Tracee Smith (Honey Creek Elemenary), Dametria Williams (Rockdale Magnet School for Science and Technology), Cynthia Siren (Peek's Chapel Elementary). Front Row – Kimberly Tomlinson (Barksdale Elementary), India Whitted (Sims Elementary), Emily Kleisitz (J.H. House Elementary), Kelli Mayo (Heritage High), Brandy Webb (Lorraine Elementary), Arlene McQueen (Conyers Middle). Pictured separately: Jennifer Schie (Flat Shoals Elementary).
Rockdale County Public Schools (RCPS) is preparing to celebrate its school-level 2019-2020 Teachers of the Year – the women and men who go above and beyond for their students, peers and community.
The RCPS Teacher of the Year Celebration will held Sept. 17 at the Rockdale Career Academy. The ceremony will feature all the school-level Teachers of the Year selected by their peers. The district-level Teacher of the Year will be announced during the event and will advance to the state-level competition.
This year's Teachers of the Year are:
Barksdale Elementary – Kimberly Tomlinson
C.J. Hicks Elementary – Divya Kharod
Flat Shoals Elementary – Jennifer Schie
Hightower Trail Elementary – Precious Moon
Honey Creek Elementary – Tracee Smith
J.H. House Elementary – Emily Klesitz
Lorraine Elementary – Brandy Webb
Peek's Chapel Elementary – Cynthia Siren
Pine Street Elementary – Janareau Murray
Shoal Creek Elementary – Josh Kammerer
Sims Elementary – India Whitted
Conyers Middle – Arlene McQueen
Gen. Ray Davis Middle – Francoise Scott
Edwards Middle – Vita Reed
Memorial Middle – Natasha Bell
Heritage High – Kelli Mayo
Salem High – Beth Withers
Rockdale County High – Reginald Jacobs
Rockdale Magnet School for Science and Technology – Dametria Williams
Alpha Academy – Nabulungi Bolton-Johnson
Open Campus – Michael Zellous
Rockdale Career Academy – Chris Anglin