Testingfg of Ads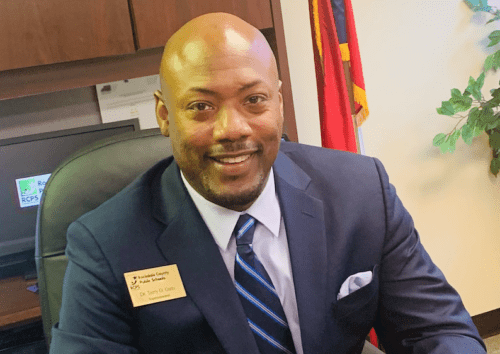 Rockdale County Public Schools (RCPS) Superintendent Terry Oatts announced RCPS will postpone the return of in-person learning on the hybrid schedule until after the February break.
The superintendent released the following statement:
"As I've previously communicated, our ultimate decisions regarding the resumption of in-person learning would be based on our local public health data. With the current levels of COVID-19 infection rates so prevalent within our county and with the anticipated escalation after the upcoming holiday season, the risk of prematurely returning students to our schools at this time for in-person learning is simply too great for both staff and students.
"While as a district we have taken significant mitigation measures in an attempt to sufficiently minimize risk, the sheer pervasiveness of infection within our communities requires additional caution and discretion at this time. Our planning, which includes implementing a hybrid schedule as well as establishing school-based COVID-19 testing through our recently acquired telehealth services, is sound; however, we must work collectively for the best chance of success at reducing infection rates in our communities.
"Consequently, we will adjust our target date for the resumption of in-person instruction to Monday, Feb. 22, 2021. Our teachers and support personnel at the school level will be expected to return to their work sites on Monday, February 1, 2021 to finalize planning and preparation for the return of those students whose parents wish for them to receive in-person instruction on a hybrid schedule as indicated by our recent learner option selection. Our virtual learning will continue during this time. Parents will have an opportunity after the first of the year to update their learner option preference in advance of the Feb. 22 target date for the resumption of in-person learning.
"While I understand and respect that our stakeholders may hold different views regarding this decision, it is important for such decisions to be made after a responsible analysis of our local public health data. As of today, the 14-day case rate for Rockdale County is 487 cases per 100,000 and the 14-day positivity rate is 15.1 percent, which are extremely high. The targets outlined in public health guidance are less than 100 for case rate and less than 5 percent for positivity rate.
"Rockdale County has seen a continuous escalation of COVID-19 infection rates during the last month. Regrettably, Rockdale is now deemed both an Emerging County of Interest for COVID-19 and a High Transmission Rate County by the Department of Public Health.
"This is not a decision I make lightly but I most definitely make this decision in the interest of student and staff safety and well-being and the well-being of the community in Rockdale County. Together, we will ensure that our mitigation measures have the best chance for success at thwarting substantial COVID-19 transmission and return our students and staff to in-person learning safely and successfully.
"Athletic conditioning and competition will be able to continue at this time by following the rigorous and increased safety protocols created by our RCPS Sports Working Group. For those who reasonably inquire about what is the difference in permitting athletic competition at this time as opposed to in-person instruction for students – there are significant differences of scale in planning for a much smaller segment of student-athletes utilizing the full scope of athletic facilities versus reintegrating thousands of students back to in-person instruction. Other significant differences include the duration of students' engagement with teachers/staff for protracted segments of instruction inside classrooms versus athletic conditioning, practice and competition."
For more information on RCPS safety measures, please visit www.rockdaleschools.org/reopening.