Testingfg of Ads
Rockdale County Public Schools (RCPS) announced its 22 school-level Teachers of the Year who will compete for the title of Rockdale County Teacher of the Year. One teacher at each school was selected by their peers for the honor of being named his/her school's Teacher of the Year. All 22 Teachers of the Year are educators to whom others look for inspiration and direction.
Competition for the Rockdale County Teacher of the Year begins with the school-level candidates completing a comprehensive application addressing their teaching philosophy and their reasons for deciding to serve the community as educators. The applications will be reviewed and scored by a panel of three judges. After totaling the scores, three finalists will be named. The judges will then personally interview each finalist and observe them teaching students in his/her classroom.
"It is my privilege each year to recognize our 22 Teachers of the Year," says Superintendent Richard Autry. "These educators are exemplars in our organization. They are passionate about teaching and helping children create their own future. It speaks volumes that they were nominated by their own peers for this honor. I truly believe it is the people who make an organization great and I am proud to recognize this group of teachers for their outstanding work in our schools. The entire Rockdale community is indebted to their service to young people and commitment to excellence."
All 22 school-level Teachers of the Year will be honored at the 2016 Teacher of the Year celebration on Sept. 26, 6 p.m., at Rockdale Career Academy, 1064 Culpepper Road, Conyers. The district-level winner who will represent RCPS at the state competition will be announced at end of the evening.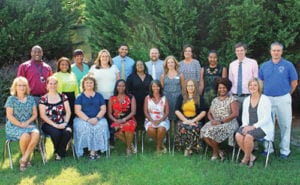 This year's Teachers of the Year are:
Barksdale Elementary – Shauna Roddenberry
C.J. Hicks Elementary – Applemania Bradford
Flat Shoals Elementary – Demetrise Brown
Hightower Trail Elementary – Daniel Meador
Honey Creek Elementary – Shaun Evans
J.H. House Elementary – Kristi Roop
Lorraine Elementary – Allison Dunlop
Peek's Chapel Elementary – Kniyonka Turner
Pine Street Elementary – Beth Duren
Shoal Creek Elementary – Yolanda Thomas
Sims Elementary – Haydee Daniel – Knight
Conyers Middle – Jean O'Kelley
Davis Middle – Kim Sanderson
Edwards Middle – David Yancey
Memorial Middle – Dameka Whitehead
Heritage High – Katie Cobb
Rockdale High – Kevin McKinney
Rockdale Magnet School for Science and Technology – Tiffany Jones
Salem High – Tapetress Ford
Alpha Academy – Samantha Hodge
Open Campus – Sabrina Smith
Rockdale Career Academy – Tom White