Testingfg of Ads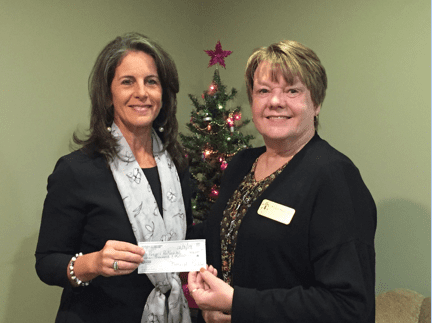 Rockdale State Court Judge Nancy Bills presents check to Vickie Stevenson, executive director of Project ReNeWal.
The Race Against Violence (RAV) 5K capped off its 10thAnniversary by making a donation to the local shelter for victims of family violence, Project Renewal.
Judge Nancy Bills of the Rockdale County State Court and chair of the Rockdale County Task Force Against Family Violence, presented Vickie Stevenson, executive director of Project Renewal, with a check for $16,000.  Stevenson said the annual donation is extremely helpful every year with expenses that are not normally covered by grants.
The donation is a result of the  5K run, which was held in October. Nearly 200 participants ran in the cold, rainy morning event. In addition to the runners, the RAV also received support from 76 sponsors who raised nearly $22,000.  This year's event brings the total raised to approximately $147,000 over 10 years.
The weekend activities began with the pre-race party at Mellow Mushroom in Conyers, where participants picked up their commemorative backpack full of giveaways.  Judge Bills kicked off the 10thAnniversary celebration by recognizing sponsors who have participated every year.  They include Dr. Bruce Beeber; Jorge Flores; Qader Baig; Conyers First Methodist Church; Black Ink; Creative Hair; Marchman Consulting; Cowan Ace Hardware; Premier Platforms; Mellow Mushroom; Olde Town Awards; Snapping Shoals EMC; Walton EMC; City of Conyers; and the Olde Town Runners.
Race organizers are already planning for next year's race, which will be held on Oct. 24, 2020.
For more information about the RAV, visit rockdaleaware.com or contact Derek Marchman at 678-938-5799.