Testingfg of Ads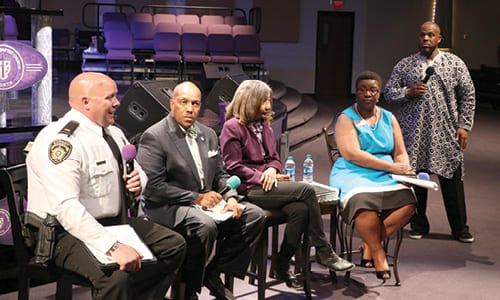 By Valerie J. Morgan
There were a lot of questions and concerns about Georgia's new hands-free law at the June 27 panel discussion hosted by State Rep. Doreen Carter, whose House District 92 includes parts of DeKalb and  parts of Rockdale counties. 
Carter, in partnership with Pastor Eric Lee, Sr. of Springfield Baptist Church in Rockdale County, said she held the forum to inform the community about the new law, which becomes effective July 1.  Carter served on Georgia's Distracted Driving Committee. She conducted the panel discussion with State Rep. Pamela Stephenson, who is a defense attorney; DeKalb State Court Judge Ronald Ramsey; and Lt. Jake Coggins, training coordinator for the Rockdale Sheriff's Office. The panel fielded questions from the audience, who posed various scenarios that might occur concerning cell phone usage under the new law: dialing while driving during an emergency(yes, but only in an emergency); What is considered a complete stop? Where you can legally pull over? What are the rules for listening to music and watching videos? Is videotaping allowed once stopped by law enforcement? Can you facetime while driving?     
While there are exceptions to some rules, Coggins summed up the intent of the new law in four words: "Put your phone down."
 "You can live a 20-minute drive without it," he said. "All we have to do is see you support that phone with a part of your body and we can cite you. If we see you supporting it on your shoulder, holding it in your hand, that is a violation."   
Coggins said Rockdale County is giving a 30-day grace period to allow law enforcement officers to educate drivers on the new law, which carries 1 point on your driver's license and a $50 fine for the first offense and goes up by 1 point on your license and $50 additional with each offense. 
Rep. Stephenson said the more drivers, particularly teens and young adults, are educated, the less time they will spend in out of courtrooms and avoid costly fines, penalties and legal expenses.     
Judge Ramsey urged drivers to buy a dashboard device or some other holder for their cell phone. He said those who are stopped by law enforcement for a first offense should be able to produce their device and have their case dismissed, but he also added that each case is different and ultimately, a judge will determine how the statue applies on any given day.
Ramsey said bottom line, though, is the new law has more teeth and lawmakers and law enforcement  intend to enforce the law. 
 "They were not able to enforce the old texting and driving bill, which was known as "failure to use due care," law, Ramsey said. "It was difficult to enforce. It was difficult to get convictions on. I could probably count on two hands the number of convictions that I've had on that statue in the last three years."
"Every driver in your house needs this information," Springfield Baptist Church Pastor Eric Lee, Sr. 
A driver cannot have a phone in their hand or use any part of their body to support their phone. Drivers can only use their phones to make or receive phone calls by using speakerphone, earpiece, wireless headphone, phone is connected to vehicle or an electronic watch. GPS navigation devices are allowed.
Headsets and earpieces can only be worn for communication purposes and not for listening to music or other entertainment.
A driver may not send or read any text-based communication unless using voice-based communication that automatically converts message to a written text or is being used for navigation or GPS
A driver may not write, send or read any text messages, e-mails, social media or internet data content
A driver may not watch a video unless it is for navigation.
A driver may not record a video (continuously running dash cams are exempt)
Music streaming apps can be used provided the driver activates and programs them when they are parked.

 

Drivers cannot touch their phones to do anything to their music apps when they are on the road.

 

Music streaming apps that include video also are not allowed since drivers cannot watch videos when on the road.

 

Drivers can listen to and program music streaming apps that are connected to and controlled through their vehicle's radio.

 
For more about the law, visit http://www.headsupgeorgia.com/handsfree-law/