Testingfg of Ads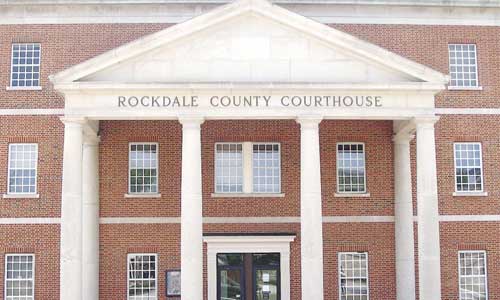 Revised Date: April 3, 2020
The Rockdale County Courthouse remains open for essential court businessduring the public health emergency.  Every division of the Rockdale County Clerk of Superior and State Courts Office will be open for business Monday through Friday 8:30 a.m. to 5:00 p.m., however, access to each service area will be restricted to scheduled appointments only. Should you need to conduct essential court businessin-person at the Courthouse, please contact the applicable telephone number below to schedule an appointment with our staff:
Real Estate Division – 770-278-7864
State Court and Superior Court Civil Division – 770-278-7905
Superior Court Criminal Division – 770-278-7912
State Court Criminal Division – 770-278-7876
Board of Equalization – 770-278-7924
Attorneys and the public are encouraged to conduct business through one of the following methods:
(1.) Online at www.rockdaleclerk.com
(2.) Via telephone at 770-278-7900
(3.) U.S. Mail: Rockdale County Clerk of Superior and State Courts, 922 Court Street NE, Conyers, GA 30012.
Civil e-filing– Please visit our website to electronically file civil documents with Rockdale State Court or Rockdale Superior Court.
Real Estate– Rockdale County deeds, liens, plats and Uniform Commercial Code (UCC) filings are available online at gsccca.org.Copies of a deed, lien, plat and UCC may be obtained via this website. Real estate documents may be filed via http://efile.gsccca.org.
Passport processing is suspended through April 30, 2020.  Visit www.travel.state.govto find more information regarding other acceptance agencies in this area or restrictions on travel.
EVENT CANCELLATION
The following Clerk's Office sponsored events are cancelled:
April 2, 2020 – Notary Public Training at J.P. Carr Community Center
April 4, 2020 – Law Topic Speaker Series (ALL Spanish) at Nancy Guinn Library
April 16, 2020 – Notary Public Training at J.P. Carr Community Center