Testingfg of Ads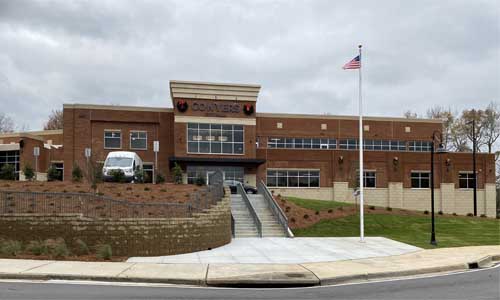 CONYERS—Mayor Vince Evans, the Conyers City Council, staff and employees of the city of Conyers invite the public to a drop-in open house and official ribbon cutting of the new Conyers City Hall, 901 O'Kelly St., on Monday, Dec. 21 between the hours of 4 and 7 p.m.
Those attending the event will be required to wear a mask or face covering. Mayor Evans will make brief remarks and cut the ceremonial ribbon at 5:30 p.m.  Holiday refreshments will be served and employees will offer guided tours of the building.
The new City Hall is a 38,000-square-foot, two-story building that was completed on schedule under the budgeted $13.5 million.
Conyers officials ceremonially broke ground on the new facility in July 2019 and architect and design firm Precision Planning, Inc. Construction firm Reeves Young began work on the site in August 2019.
Conyers City Hall houses the following departments: Planning and Inspections, Administration, Finance, Code Enforcement, Conyers Security Alert, Public Relations and Tourism, Technology, City Clerk's Office, Mayor's Office, and City Manager's Office. The building also houses the new council chambers, where city council meetings are held on the first and third Wednesday of the month.
"We are very proud of this new building that was constructed in order for our employees to more efficiently and effectively conduct the important business of our customers, our citizens," said Mayor Evans. "The pandemic is very much top of mind, but this occasion was too important to overlook. We hope the public will feel safe and welcome to make a brief visit to see this beautiful building in the heart of Conyers."
Parking for the open house will be available on-site and at the Nancy Guinn Memorial Library. For more information about the open house, contact Jennifer Edwards at 770-929-4299 or jennifer.edwards@conyersga.gov.