Testingfg of Ads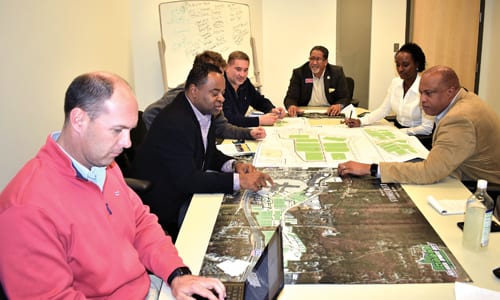 Stonecrest Mayor Jason Lary and city staff members met with developer Vaughn Irons and the Atlanta Sports City staff on Jan. 31 to begin plans for the construction of the first athletic fields for the sports complex project at Stonecrest.
Irons and Chris Daniluk, CEO of Deluxe Athletics, will be applying for permits to build six multipurpose fields and three baseball fields on Mall Parkway.  The multipurpose athletic fields can be used for sports ranging from soccer to lacrosse.
Construction of the turf fields will begin around March 15, with a targeted completion by the end of June.
"We already have tournaments scheduled for July," Irons said.
The complex will be built on a 197-acre tract west of the Mall at Stonecrest and will feature a 15,000-seat stadium, outdoor multi-use fields, sports diamonds, indoor courts and a restaurant and entertainment area.
Daniluk, whose company will be responsible for the construction of the fields, said he plans to submit the proper plans and apply for the grading permit before the end of February, city officials announced in a news release.
The mayor said the construction would involve a change to the Stonecrest overlay district. An ordinance must be adopted to change the overlay district allowing for the construction of athletic playing fields. Lary said that he and his staff will do whatever it takes to get this project off the ground and make Atlanta Sports City a success.