Testingfg of Ads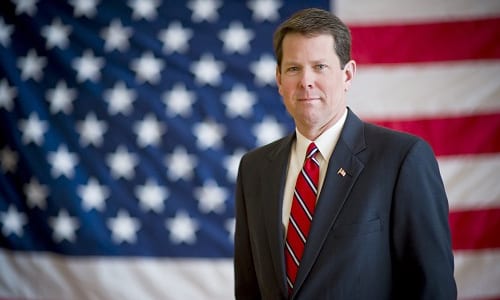 Kemp urges Congress to provide more funding for Paycheck Protection Program
 ATLANTA—Georgia Gov. Brian P. Kemp is calling on Congress to pass additional funding for the Paycheck Protection Program (PPP), which ran out of money this week.
The $349 billion Small Business Administration's (SBA) PPP program,  launched on April 3, was supposed to help small businesses on the brink of collapsing amid COVID-19 pandemic.
On Thursday, April 16, the bad news came: The money to save America's 30.2 million small businesses dried up.
Gov. Kemp issued the following statement on Friday, April 17:
"While businesses across the United States are reeling from the impact of COVID-19 on our economy, this is no time for partisan games. The Paycheck Protection Program has provided a $9.5 billion lifeline to businesses right here in the Peach State. Those funds give critical relief to job creators in Georgia and throughout the country, ensuring they can keep employees on the payroll, sustain operations, and ultimately weather this crisis. I join with President Trump, Leader McConnell, and Leader McCarthy in urging Speaker Pelosi, Leader Schumer, and the Democrats to immediately return to Washington and replenish the Paycheck Protection Program. Small businesses are the engine of our economy, and they will be a key component of our strategy to safely reopen in the coming weeks. During these challenging times, we owe them nothing less than our absolute support."
Politicians on both sides of the aisle have expressed they want more money added to the PPP program, but they disagree over how much money it should include and who it should help. Republicans are focused on giving a $250 billion boost to provide small businesses and nonprofits with forgiveable loans.  Democrats want the program expanded to include $150 billion for states and cities, money for health care providers and SNAP.
Democrats also are pushing for some of the new funds to be set aside for community-based lenders, since larger banks like Bank of America restricted the funding,  giving preference  to certain businesses.
Meanwhile, the SBA has posted on its website:
"Lapse in Appropriations Notice: SBA is unable to accept new applications at this time for the Paycheck Protection Program or the Economic Injury Disaster Loan (EIDL)-COVID-19 related assistance program (including EIDL Advances) based on available appropriations funding.
EIDL applicants who have already submitted their applications will continue to be processed on a first-come, first-served basis."
It remains unclear, however, if applications queued in lenders' pipelines would be in line if more money does become available. News agencies, however, say businesses that were shut out should still check with their lenders to find out whether they will continue to process the applications, even if they can't be funded right now.
Wells Fargo posted an encouraging notice on its web site. The notice read in part:
"You may have heard that the U.S. Small Business Administration (SBA) has run out of money to fund PPP loans, and we realize this may be causing you frustration and concern. Given the magnitude of the crisis the country is facing, we are hopeful that Congress will approve additional funds for the PPP. In anticipation of additional approved funds, Wells Fargo continues to take and prepare customers' PPP loan applications for submission to the SBA."
"…Keep in mind that there is a lot of interest and demand for this program and there are limited funds available from the SBA Paycheck Protection Program. We encourage you to apply as soon as possible."
Bank of America, on the other hand, is offering no specific information about the PPP program or any explanation of what will happen with applications that were already in the pipeline. Instead, the bank is offering to waive overdraft fees, monthly maintenance fees and assistance with credit card and loan payments. Bank of America posted the following statement:
"In response to the extraordinary challenges of the coronavirus, Bank of America is offering additional support to our consumer and small business clients through our Client Assistance Program (CAP).
Need assistance with your payments? We can help now. Consumer and small business deposit clients can request refunds for overdraft fees, non-sufficient funds fees, and monthly maintenance fees. "
Through our Client Assistance Program, consumers and small business clients who need assistance making credit card and loan payments can submit an online request …"
There is a lot at stake for businesses that did not receive funding.  Under the PPP program, businesses can apply for up to 250% of their monthly payroll: If their payroll is $100,000 per month, they can apply for a $250,000 loan. The loans are forgiven if 75% of the money is used to pay employees. The interest rate are fixed at 1%.
According to the website CovidLoanTracker.com, 84 percent of the PPP money that has been sent out has come from small or regional banks.
This week, Treasury Secretary Steven Mnuchin and SBA Administrator Jovita Carranza issued a joint statement saying:
"The SBA has processed more than 14 years' worth of loans in less than 14 days… We urge Congress to appropriate additional funds for the Paycheck Protection Program—a critical and overwhelmingly bipartisan program—at which point we will once again be able to process loan applications, issue loan numbers, and protect millions more paychecks."