Testingfg of Ads

By Sarita Mason | OCG News Intern
Rose Simmons will never forget the chilling call she received on June 17, 2015. That was the day she learned her father was among nine people—all black—who were gunned down during bible study at Mother Emanuel AME Church in Charleston, S.C.
Two days after the massacre, the families sat face to face in court with white supremacist Dylann Roof, 24, ultimately forgiving him and praying for mercy, shocking the nation. Roof was sentenced to death in 2017 for the murders and is now awaiting execution on federal death row in Indiana.
"Forgiveness is key, but doesn't deny justice," said Rose Simmons, remembering her father, the Rev. Daniel Lee Simmons, a retired pastor who was a member of Mother Emanuel AME, and the other victims who were slaughtered.
The massacre is the subject of a documentary, "EMANUEL," which will be screened on Saturday, June 1, 1 p.m., at the Porter Sanford Performing Arts and Community Center, 3181 Rainbow Drive, Decatur. The film will premiere in theaters nationwide on June 17 and 19 only.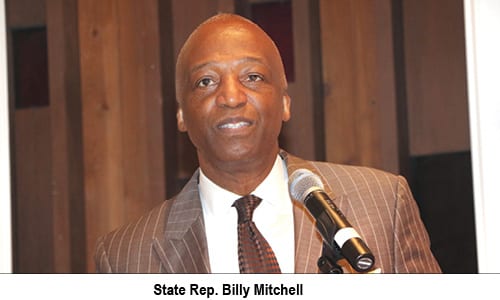 State Rep. Billy Mitchell has joined Rose Simmons in inviting the community to the free screening at Porter Sanford. Mitchell, who will serve on a panel discussion following the screening, nominated the "Emanuel 9" for the Nobel Peace Prize named finalists.
"This is an amazing opportunity for an inside view to what really happened that day and how the families have been affected, said Mitchell. "This story is worth telling and will spark the important conversations we all need to have."
Simmons, who is part of the film team, said Director Brian Ivie, director of the award-winning film, "The Drop Box," teamed up with Executive Producers Stephen Curry, Academy Award winner Viola Davis and Co-Producer Mariska Hargitay (Law & Order: SVU) to present "EMANUEL."
The film tells the stories of the families and victims affected by the shooting, as well as the impact of Mother Emanuel Church and race relations in Charleston. It also includes intimate interviews with survivors and family members, according to emanuelmovie.com.
"This film meets all angles politically, socially, and racially," said Simmons.
"This documentary will represent the memory of the victims and is a tool for change that will start conversations about change."