Testingfg of Ads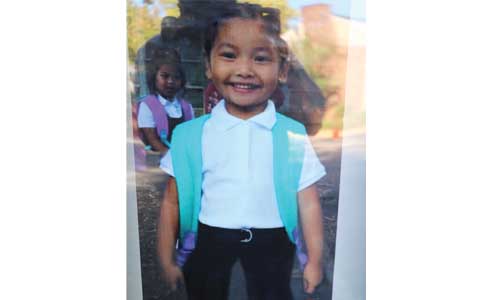 By Valerie J. Morgan
A trail of shoes graced the front door of Zam Tuang and San Thang's small apartment in Clarkston. Inside, family and friends gathered to try and pick up the pieces of the Burmese couple's lives, shattered after the Thangs' 4-year-old daughter, Lun, was struck by a hit-and-run driver. As some women cooked in the kitchen, silence filled the apartment, broken by a small child crying.
Lun Thang, a pre-K student, was killed on Oct. 18 around 6:45 a.m. as she walked to Indian Creek Elementary School accompanied by her aunt, 7-year-old sister and cousin.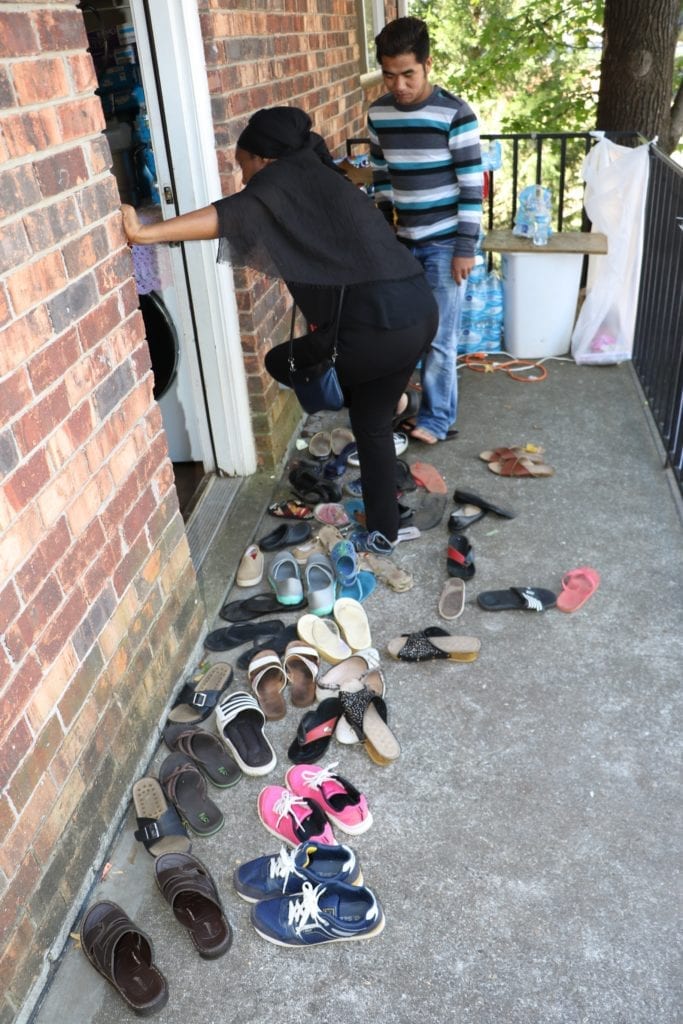 "She was a sweet girl, very happy," said Zam Thang, the child's father as he ushered in a guest, who, following Burmese custom, removed his shoes before entering the family's home. Thang said his wife was home with their infant, just 2 weeks old, when their daughter was killed. San is inside a room resting and does not emerge as guests line the walls, some sitting on the floors, others seated in folding metal chairs, the day after the tragedy.
Lun was hit at the crosswalk on North Indian Creek Drive, just a few yards from the school. The sedan sent her airborne, hitting another vehicle as the sedan lost control, stopped momentarily and then sped off, said DeKalb police spokesperson Sheira Campbell.
Police took photographs of one of the little girl's shoes left at the scene.
DeKalb police are seeking the public's help in locating the dark sedan witnesses reported seeing fleeing, Campbell said.
"The car has front end damage. We're looking at the front headlight may be damaged," said Campbell. "If anyone is working in an auto repair shop and they bring in a Toyota or a Honda with front end damage, they should notify the DeKalb Police Department."
Investigators were reviewing surveillance tapes, looking for images of the car.
Meanwhile, DeKalb County School District officials have asked crossing guards to report at 6:30 a.m., rather than 7 a.m., for the remainder of the school year, said district spokesman Andre Riley.
"Tragedies like this are always unexpected. Everyone is taking it hard. We are providing support for our staff, students and the child's family," Riley said.
Maurisia Stansil, who lives in Clarkston, said she was saddened to learn what happened after getting stuck in traffic while taking her own children to another school near the area where the little girl was hit.
"We pulled up a few moments after it happened. There were a lot of police cars, helicopters and people looking. We had to turn around and go another way due to traffic and them blocking off that area," Stancil said.
Stansil said the she was glad the school district had more crossing guards on duty and that her heart goes out to the family.
Zam Thang said he and his family are from Burma. He came to the U.S. in 2007 and his wife, San, followed in 2010. He said the family needs help with burial costs.
The Indian Creek PTA provided food for the Thang family. A Go Fund Me account for Lun Thang has been established to assist the family with funeral expenses. At press time, $800 had been raised.
"We are very saddened by Lun's death. The faculty and community have rallied together to help the family, who are in need. We're encouraging the public to help to contribute to the fund," a school representative said.