Testingfg of Ads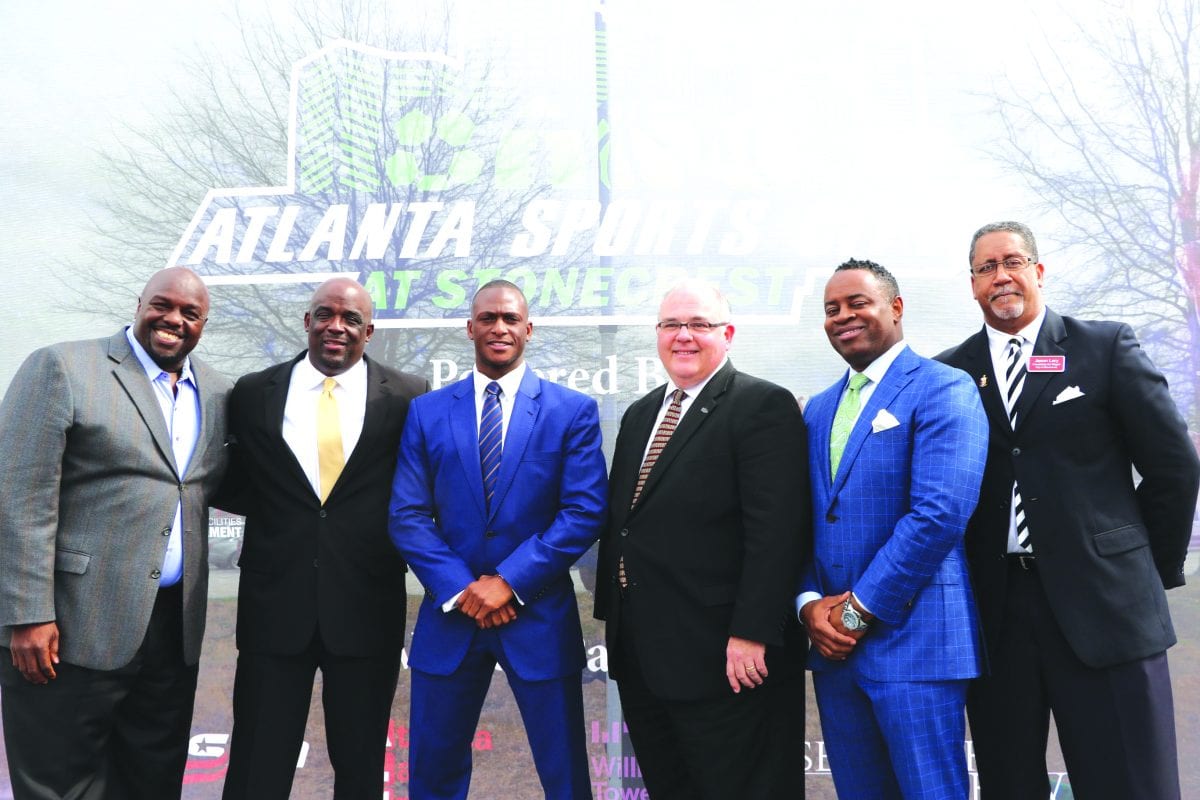 A $200 million sports complex expected to create 2,000 jobs and bring spectators, and teams and tourists from around the country is coming to the new city of Stonecrest.
Atlanta Sports Connection, in partnership with Atlanta Partners for Development (APD) and Discover DeKalb Convention & Visitors Bureau announced plans for the privately-funded "Atlanta Sports City at Stonecrest" on Feb. 22. As the project's partners unveiled a huge banner bearing the sports facility's name, the crowd attending the launch cheered and applauded with excitement.
"As a resident, I'm proud to be here and as a developer, APD is privileged to be working at Stonecrest with these dedicated organizations and individuals in this community who fought to make their own way," said APD Solutions CEO Vaughn Irons, who pulled together the deal. "First, we created a city. Now, we have our first major project."
Patrick Henderson, CEO of Atlanta Sports Connections, and Zeric Foster, COO of Atlanta Sports Connection, said they had been working on the idea since 2010. Irons said he got involved a year and a half ago, bringing all of the players to the table: Discover DeKalb Convention & Visitors Bureau, Brassfield & Gorrie, Alston & Byrd law firm, Seyfarth Shaw, Willis Towers Watson and Atlanta Land Group, just to name a few involved in the collaboration.
"This is the game changer we've been waiting for and watch out everyone, Stonecrest is the new impact player," said Irons, who added the project will be a role model for the country.
The complex will be built on the western side of the Mall at Stonecrest on a 197-acre tract across from the AMC theater and will include a 15,000-seat professional stadium, outdoor multi-use fields, sports diamonds, and indoor courts, hotels, 340,000-square-foot entertainment district with dine-in restaurants and upscale boutiques.
Henderson and Foster said they are excited about making history in the city of Stonecrest.
"Initially, we were going to go the Chamblee area in North DeKalb but the timing just wasn't right back then. We like to say that Stonecrest found us and we landed on the perfect site," Henderson said. "The availability of land, all that Stonecrest has to offer is phenomenal. It just made sense for us to come over and be a part of the legacy for the new city of Stonecrest."
Foster concurred.
"It's just the perfect opportunity. It's our community. We're both DeKalb residents and we love having the opportunity here," said Foster.
Atlanta Sports City will accommodate over 22 different sports and will host amateur and professional sports events throughout the year.
Discover DeKalb Executive Director James Tsismanakis said the facility is expected to bring 3 million tourists to the area annually.
"With nearly $80 million in new demand for lodging, food and entertainment, Atlanta Sports City is definitely going to be one of the biggest economic development projects around," Tsismanakis said. "Just 20 minutes east of downtown Atlanta, the location of this project is key; this will be a destination between Augusta and Atlanta allowing us the opportunity to compete for regional and national sporting events."
Irons said construction of the massive project would start in this year's third quarter.
"We're going to put in the fields first and some tournaments will be held this year," Irons said. "We're going to work very diligently with our general contractor, Brassfield & Gorrie, to make sure that Stonecrest businesses and DeKalb businesses have more than a fair shot at participating."
Mike McClinton, who owns a dump truck business, said he hopes to have a shot at competing as a sub-contractor.
"I think that it is going to be great. We need the development in this area and the jobs," said McClinton.
Irons said in addition to the 300 construction jobs, there will be marketing jobs, referees, directors of sports programs, facilities, maintenance, and facilities providing sports medicine.
"All of the jobs will provide above living wage, and we're going to set aside and dedicate some of those jobs for hiring Stonecrest residents," Irons said.
Jason Lary, who headed the Stonecrest movement and is running for mayor of the new city, said he is ecstatic to see the vision of where he wants the city to go come to fruition.
"It's been a long time coming… For four years, we have worked on the city of Stonecrest, going down to the Capitol so we could have a say," said Lary, who drew thunderous applause as he thanked the citizens who supported the movement for Stonecrest to become a city when others said it couldn't be done.
Greg Griffith, executive director of Georgia Soccer Association, said he welcomes the facility and is looking forward to bringing soccer to the area. He said the location is ideal.
"As the Executive Director of the largest youth sports organization in Georgia, we are excited to have a facility like Atlanta Sports City that matches the quality of our soccer clubs and teams in Georgia," said Griffith. "This facility will provide a place for dozens of local tournament and give us the ability to bid on major regional and national tournaments to bring theses events to Atlanta. The proximity to metro Atlanta and the best airport in the country, makes this a great location for a sports complex."
Atlanta Sorts City At Stonecrest will be able to host the following sports:
Baseball
Basketball
Cheerleading
Cricket
Cross Country
Dance
Fencing
Field Hockey
Flag Football
Futsal
Gymnastics
Kickball
Lacrosse
Martial Arts
Paddle Ball
Racquetball
Rugby
Soccer
Squash
Tackle Football
Tennis
Track & Field
Volleyball
Weight Lifting
Wrestling