Testingfg of Ads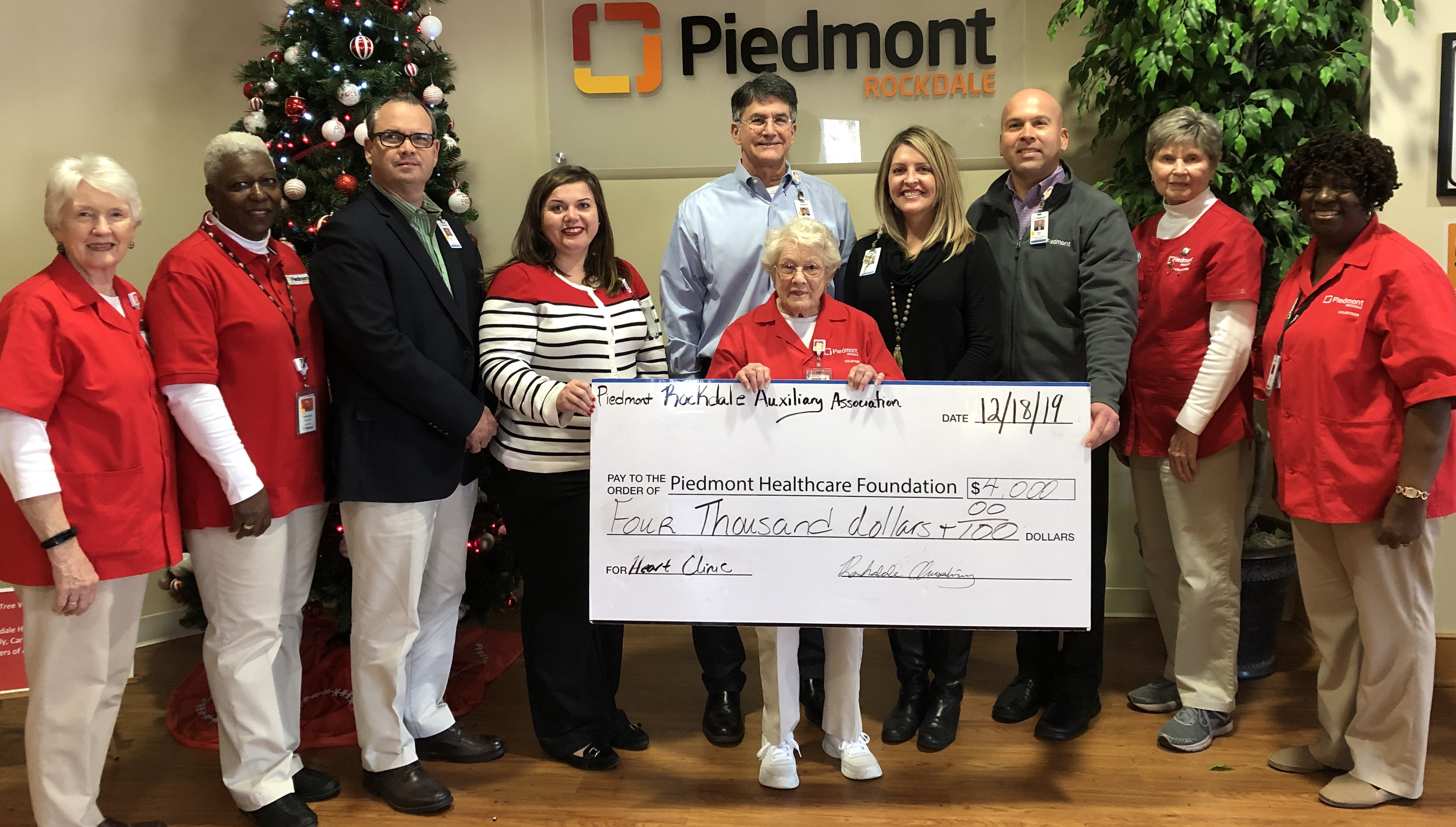 Piedmont Rockdale Hospital's Volunteer Auxiliary has donated $4,000 to the hospital's newly opened heart failure clinic. The auxiliary's donation will assist the clinic in expanding its ability to care for patients, and purchase much-needed equipment for the new clinic.
The Heart Failure Disease Management Clinic at Piedmont Rockdale opened in December and provides outpatient services such as patient education, lab monitoring, intravenous diuretic medications, and disease management support.
"Hearing the term 'heart failure' can lead people to believe that their heart has stopped working and there's nothing they can do to get better," said Kelly Fairbrass, NP-C. "Heart failure is a serious condition, usually with no cure, but with the right treatment it is very manageable. In order to do well, patients must become responsible for the day-to-day management of their condition—this can be a real challenge. We are here to support them on their journey. Our goal is to minimize heart failure symptoms, slow disease progress and help patients minimize the need for them to be hospitalized."
An estimated one in five people in the United States are living with heart failure, and approximately 550,000 new cases of heart failure are diagnosed each year.  Heart failure is a condition where the heart is no longer able to pump enough blood to adequately meet the needs of the body. There are many causes, but most people who develop heart failure already have another condition, such as coronary artery disease or high blood pressure.
Symptoms of heart failure include shortness of breath, persistent coughing or wheezing, buildup of fluid in the body, tiredness or fatigue, weight gain, confusion or impaired thinking and increased heart rate. If you are experiencing two or more of these symptoms, you should speak with your doctor.
"Piedmont Rockdale has a robust cardiovascular program," said Tracy Buffington, RN. "The heart failure clinic provides another layer of care to help patients better understand and manage their condition. We are excited to offer this service to our community, providing them with the education and support they need to live their best life. We are very thankful for this generous donation as it will help us achieve our mission."
If you are interested in donating to Piedmont Rockdale, visit www.piedmont.org/give. For more information on the hospital's cardiovascular services, visit www.piedmont.org/heart.