Testingfg of Ads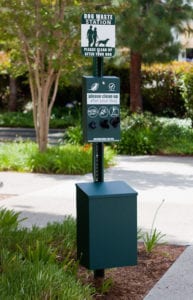 In an effort to help reduce water pollution, Rockdale Recreation and Maintenance and Rockdale Water Resources (RWR) have partnered to install pet waste disposal units in parks that border Rockdale's waterways.
Recreation and Maintenance and RWR are encouraging citizens to use these pet waste disposal units installed recently at Black Shoals Park, Daniels Bridge Trailhead and Lakeview Park.
According to the Metropolitan North Georgia Water Planning District, studies show that pet waste in urban areas is a "significant contributor of pathogens and nutrients" to the watershed. Pet waste that is not properly disposed of can be carried by rain runoff directly into nearby water bodies. Storm drains in streets and neighborhoods usually flow directly to a stream, river or estuary without any treatment. Untreated animal waste can become a source of harmful bacteria in water.
"Just as we don't want human sewage in our water, it is important to prevent pet waste from being carried into our waterways because of negligence," said Sue Sanders, Recreation and Maintenance Director. "Pet waste contains nutrients that can cause excessive growth in a river or lake, and as it decays, it uses up oxygen fish and aquatic life need. So please use the new pet waste disposal units conveniently placed throughout the Rockdale Count park system."
For more information, call Recreation and Maintenance at 770-278-7529 or RWR at 770-278-7400.