Testingfg of Ads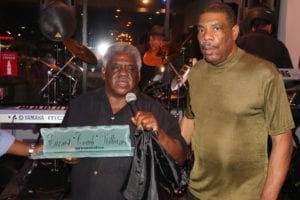 State Rep. Earnest "Coach" Williams celebrated his 67th birthday with family and friends at Jesse's Restaurant Lounge on Wesley Chapel Road in Decatur on June 10.
The longtime DeKalb County Democratic legislator became emotional as he thanked the public for allowing him to represent House District 87 since 2002.
Williams, a retired educator, told the audience he was honored to be assigned to the same seat (136) at the State Capitol as the late Julian Bond, one of the country's greatest Civil Rights leaders. Williams has held that seat for 12 years.
Jesse "Jay" Cunningham, who owns Jesse's Restaurant Lounge presented Williams with a plaque in honor of his birthday, which was actually June 14.