Testingfg of Ads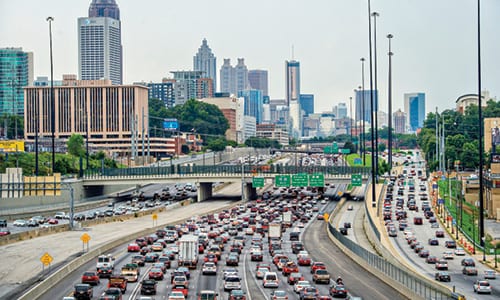 Metro Atlanta's population is booming. The metro added 75,800 new residents in the past year, increasing its population to 4,555,900 in the 10-county region. The numbers reflect the second-largest one-year increase since 2007-2008, trailing its 2016-2017 increase of 78,300, according to a new report released by the Atlanta Regional Commission (ARC).
DeKalb County added 10,600 people in the past year, its largest single-year growth in nearly two decades. The surge brings the county's total population to 744,530. Fulton County, which took the No. 1 spot with an increase of 17,570 people now has a population of 1,020,370. Gwinnett County, which had an increase of 16,700, came in second with a population of 910,700, the ARC reported.
DeKalb CEO Michael Thurmond says the growth is a positive sign.
"DeKalb County is becoming the preferred location for many residents and businesses," said Thurmond. "We have gotten our fiscal house in order and made significant investments to improve county services, governance and accountability."
Thurmond said county strengths include an extensive interstate highway system, the second busiest airport in Georgia, a strong public transit network, improvements in the public school system, numerous higher education and technical schools and incomparable healthcare facilities such as the Centers for Disease Control, Emory, DeKalb Medical and Children's Healthcare of Atlanta.
The surge continued a trend of rapid growth. DeKalb grew by 8,900 people between April 2016 and April 2017 and 6,600 the previous year. The county has added more than 52,000 people since 2010.
State Rep. Doreen Carter, whose District 92 includes a portion of Decatur, the cities of Lithonia, Stonecrest and Conyers, said it's clear metro Atlanta has become more populated because of the traffic congestion.
"I leave at 6:15 every morning and there's already a traffic jam on I-20. If I leave at 6:30 a.m., it's too late. I know I'm going to be late getting downtown," said Carter.   Carter said more work must be done to create jobs where people live.
"With all of the growth that is going on, it's a good opportunity to lure more headquarters, even smaller companies, to east metro Atlanta, particularly in the new city of Stonecrest and Lithonia. There's plenty of land in Stonecrest that is ripe for development," said Carter. "New development will create more revenues for the cities and the county."        
Carter said more efforts also must be made to encourage employers to offer flexible schedules to workers so everyone is not headed to work at the same time.
"We've got push flex time, carpooling and the use of public transportation and encourage incentives to reduce the traffic congestion," said Carter. "I left the office at 5 p.m. and it took me one hour and 20 minutes to go less than 15 miles."
Growth Since 2010 by the Numbers