Testingfg of Ads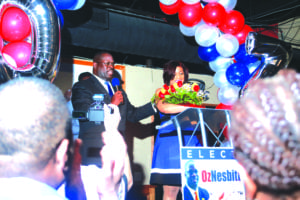 Oz Nesbitt won the seat for Rockdale County Chairman, defeating write-in challenger Courtney Dillard, in a long, hard-fought campaign. Nesbitt received 92.23 percent of the vote, while Dillard received 7.62 percent, according to unofficial returns.
Although Nesbitt had defeated incumbent Richard Oden in the three-way primary in May, his campaign was stretched out an additional five months after Dillard first tried to challenge him as an Independent then as a write-in candidate. Dillard sought to run as a write-in candidate after elections officials notified him hat he did not receive enough valid signatures on petition to run as an Independent.
Nesbitt told supporters at his victory celebration on election night that, as Rockdale's new chairman, he is looking forward to building strong partnerships with government, public safety and parks and recreation employees as well as the Rockdale community at large.
"This is about business owners and entrepreneurs. This is about safe communities and partnering up with our Sheriff's Department and working with our public safety teams. This is about better parks and recreation," said Nesbitt.
Nesbitt has appointed 30 people from the community to serve on his transition team. The team, which had a preliminary meeting in October to lay out their strategies, will be assessing and gather data on infrastructure, public safety, code enforcement, transportation, economic development and other pertinent areas that affect Rockdale. Corey K. Hambrick is leading the transition team, which also includes retired Rockdale Fire Chief Tommy Morgan, Captain Eric Jackson; Attorney Derwin Davis; Anika Inman; Jay Grover; Julie Mills; Terry Moore; Katie Vaughn; and A. Nick Brown.
The team will hit the ground running and begin executing its strategies on Nov. 14, Nesbitt said.
"These are top professionals who will be looking at improving our processes. They are not an investigative team. I have already notified Chairman Oden that they will be contacting department heads and other county employees," said Nesbitt. "We don't want them to feel intimidated. The information they are gathering is to make us better."
Nesbitt, who has served on the Board of Commissioners for eight years, said he felt confident the transition would be a smooth one.
"I am very familiar with the talent. It is not as if I'm coming from outside from Coca Cola or some place like that," Nesbitt said.
The new chairman-elect said he plans to retain most employees.
"I'm not planning to just go in and dismantle things. But in order to forge the type of administration that the county needs, there will be some intimate core changes made," Nesbitt said.