Testingfg of Ads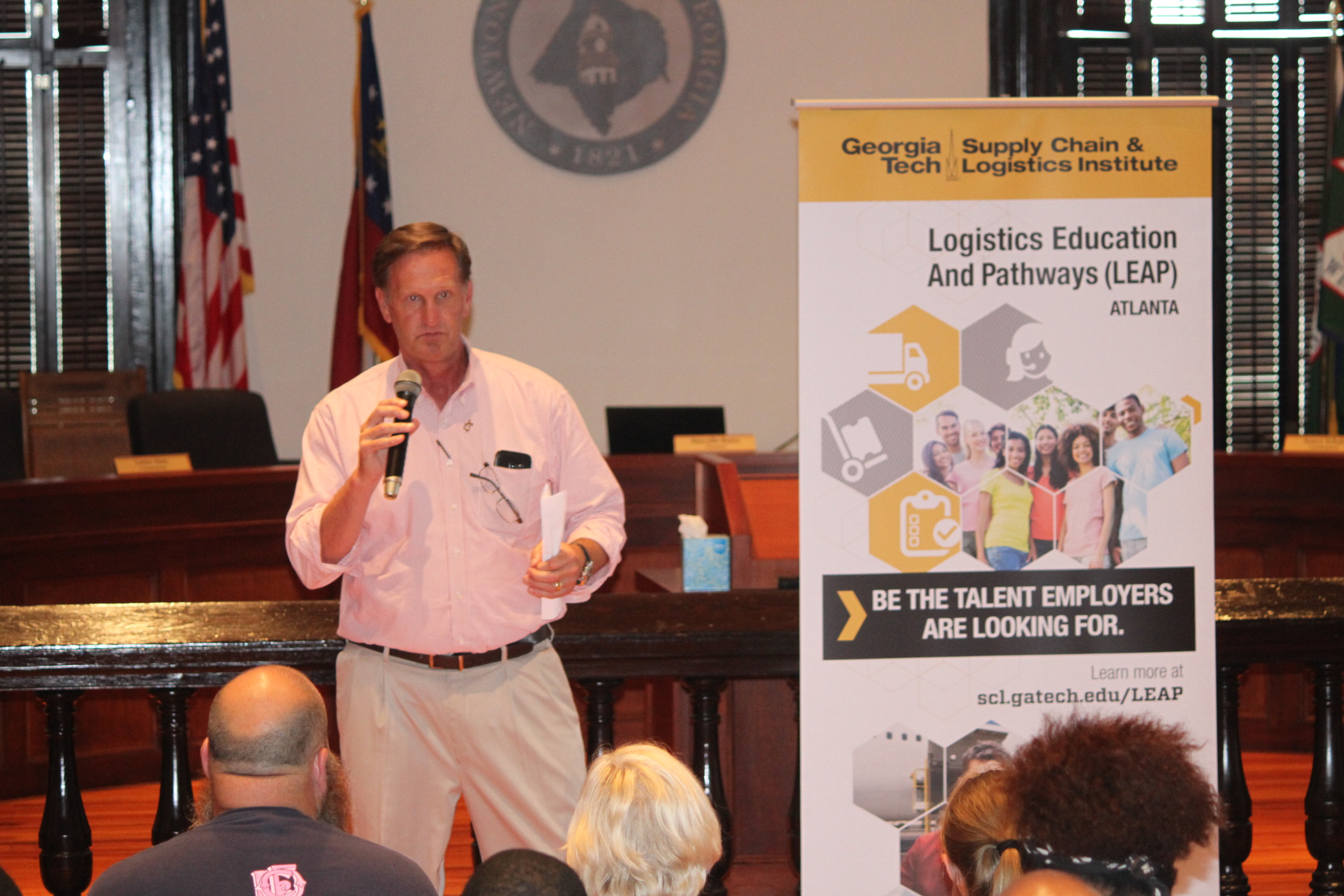 More than 100 people attended an information session for the Logistics Education And Pathways (LEAP) program on July 10 at the Newton County Courthouse. Attendees learned about the opportunity to take tuition-free online courses available from Georgia Tech's Supply Chain & Logistics Institute and the many job opportunities available in the logistics industry.
The four online courses that make up the program consist of Supply Chain Management Principles, Warehousing Operations, Transportation Operations and Customer Service Operations.
The pilot program, supported by donations from JPMorgan Chase and Schneider, is provided through partnership with Georgia Tech, the City of Covington, Newton County, Newton County Economic Development, Newton County Schools, and the Covington Newton County Chamber of Commerce.
Covington Mayor Ronnie Johnston encouraged attendees to take advantage of the program, saying over 7,000 jobs will become available over the next six years averaging $65,000 a year with benefits. Johnston said that it is his hope to introduce citizens of Newton and Rockdale counties to new skill sets and prepare them for these positions as well as alleviate the town's plight with poverty.
"Poverty is a big deal and if you look right here at our community we have some serious issues with poverty," said Johnston. "We're trying to give everybody a door to go into and this program can change the trajectory of your entire life."
Carole Bennett, director of program development and marketing at Georgia Tech, said the online courses offer invaluable education.
"What you learn in this program is not just what's going on in a logistics job and how to do things, you will also be able to start questioning why you are doing things and the impact you will have in your role in the supply chain," said Bennett.
After completing each course, students will receive a Georgia Tech Professional Education Certificate.
Tuition will be waived for the first 100 participants who enroll in up to four courses in the Georgia Tech LEAP program. The four online courses consist of Supply Chain Management Principles, Warehousing Operations, Transportation Operations, and Customer Service Operations.
The Georgia Tech LEAP pilot program is designed to help high school students, entry-level job seekers, people changing careers, and veterans to compete for jobs and successful careers in supply chain management and logistics. To qualify, applicants must be residents from Newton, Rockdale, Walton, Jasper, DeKalb, or Morgan County.
Applications for the pilot are currently being accepted. To apply, visit www.scl.gatech.edu/leap