Testingfg of Ads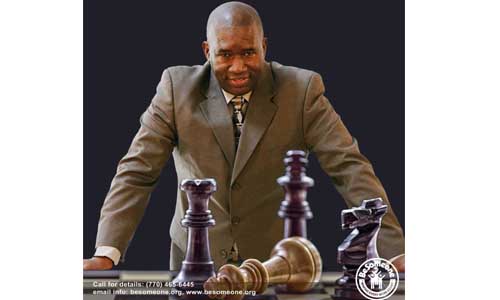 Orrin "Checkmate" Hudson, noted mentor and anti-violence and peace activist, is inviting the community to celebrate "Good Deeds Day" on Thursday, April 11, 6 to 8:30 p.m., at the Stone Ridge Events Center, 1750 Stone Ridge Drive, Stone Mountain.
"There will be free food, free parking and I will be giving specific strategies to help students clearly understand there are consequences for every move they make in life," said Hudson.
Hudson, recognized around the nation for his mentoring work in the community through his nonprofit, Be Someone, will use a giant chessboard to teach strategies on problem solving and success.
The chess champion, who was once an at-risk youngster following a path of personal hardship and heartache, says his training is "designed to provide constructive tools for life."
"The game of chess changed my life," said Hudson. "I use it to change the lives of young people."
Hudson was dubbed the "pied piper of positivity" by CNNfor coaching his students to a statewide chess championship and three citywide chess championships. His program has served 65,000 students since 2000. The former Air Force veteran and law enforcement officer has been awarded the George H.W. Bush Points Of Lights Award and the prestigious FBI Director's Community Leader Award.
To attend Hudson's upcoming free event, RSVP at orrin@besomeone.org. For more information about the Be Someone organization, visit www.BeSomeone.org.