Testingfg of Ads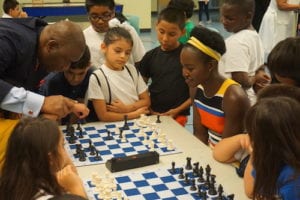 Orrin "Checkmate" Hudson, founder of the Be Someone mentoring organization based in DeKalb County, has been tapped to help Disney Studios promote the new film, "Queen of Katwe," starring the Academy award winning actress Lupita Nyong'o (12 Years A Slave) and David Oyelowo.
A national marketing company working with Disney selected Hudson for the project. He said company officials told him that his reputation around the country as a chess champion who mentors youths was ideal for the promotion of the film. Hudson said he has worked with more than 50,000 youths in various school districts and programs throughout the U.S. He said his goal is to help 1 million children think strategically about their futures.
The Disney film is based on the true story of a 10-year-old girl from the slums of Katwe, Uganda, who becomes a world chess champion and moves her mother and family out of the slums. Lupita Nyong'o plays the role of the girl's mother.
Hudson spent Sept. 12-16 touring four cities—Atlanta, Washington, D.C., Chicago and Los Angeles—to promote the Disney film, which was released Sept. 30.
Hudson had a chance to interact with actress Lupita Nyong'o during his visit to Chicago where they led a children's chess workshop.
"It was wonderful working with Lupita. She was awesome. She was familiar with the game of chess because she learned at any early age," said Hudson, who praised Lupita for her Academy award-winning role in the film, "12 Years A Slave."
Hudson said his life mirrors that of the Uganda girl who becomes a chess champion as a means of survival and a way of getting out of the slums. A teacher taught Hudson how to play chess just as a teacher taught the young Phiona Mutesi, the character in the Disney film, how to play. Growing up for Hudson also was tough. He and his 13 siblings lived in the housing projects of Birmingham, Alabama.
"My story is the same as hers. We both got the winning edge in life because someone took the time out to change the trajectory of my life," Hudson said.
"Phiona's coach told her, 'Sometimes the place you are used to is not the place you belong. You belong where you believe you belong. Where is that for you?" Hudson said. "Someone took time to guide and inspire me. It changed my life. By challenging and trusting me and helping me to understand that I can do anything I put my mind to. Now, it's my time to pay it forward."
Hudson is an Amazon No. 1 best selling author and motivational speaker. For more information about Hudson and Be Someone, visit www.besomeone.org. 770-465-6445.