Testingfg of Ads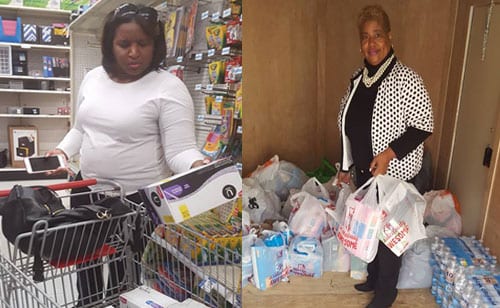 The Orchids, a group of service-minded women in Rockdale and Newton counties, have pitched in to provide assistance to the families in Albany who were impacted by the deadly storms.
Today, the group sent items it purchased on a truck carrying water, non–perishables, clothing and other items to help families in the Southwest Georgia city.
Debbie R. Hillman, who chaired the Orchids' effort, recruited Rockdale Commissioner Sherri Washington, who also is a member of The Orchids to help her shop for the sanitary products and items for the elderly. Hillman said when the Orchids heard about the needs of the people in Albany, they decided to help.
Washington said the Newton County Ministerial Alliance worked with several groups to send donations of food, water and clothing on a semi-tractor trailer. She said the Orchids wanted to make sure the women had essentials, shopping specifically for them.
"We decided to buy the sanitary products but we also bought some products for elderly men elderly men as well," said Washington. "We were very glad to help. It's always a blessing to be able to help."
Former State Rep. Dee Dawkins-Haigler is president of the Orchids.