Testingfg of Ads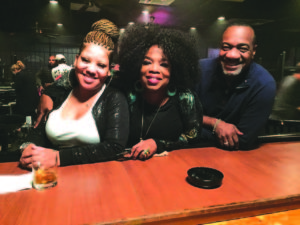 DeKalb County business owners, Wendell and Isis Robinson, recently got the surprise of a lifetime when executive producer Oprah Winfrey walked through the doors of their Decatur bar, Juicy's Joint. Winfrey visited the restaurant on Nov. 10 to film an episode for season 2 of Greenleaf, the television drama series that follows the lives of the Greenleaf family and their corrupt mega church in Memphis, Tennessee. The show, which premiered June 2016, was written by Craig Wright and features a star-studded cast including Keith David, Lynn Whitfield, and Merle Dandridge.
Robinson said he and his wife were thrilled to meet Oprah.
"We didn't find out until the day before the shoot that Oprah would actually be on location and were sworn to secrecy," said co-owner Wendell Robinson. "She's a very intelligent and gracious individual – and a hard worker. She came in, greeted us and got right to work. After the filming, Ms. Winfrey thanked us again for allowing them to use our bar and took photos with my wife and I," said Robinson.
To accommodate the shooting, the business closed down for three days to setup, shoot and breakdown the set.
"It's just incredible to see how much work goes into filming a television show. It was truly a pleasure to watch the filming behind the scenes," said Robinson.
Juicy's Joint is situated near the bustling intersection of Glenwood Road and Columbia Drive in the former Tanqueray Lounge. Robinson said he has worked tirelessly to rejuvenate the bar and attributes the renovations as a reason for their bar getting selected.
"I think they were drawn to the bar because we've put a lot of work into upgrading the bar to give it a more modern aesthetic, while at the same time not compromising the intimate feel our patrons love," Robinson said.
"Atlanta has tons of bars and we are honored that they chose a small bar like ours. It is so uplifting to have an opportunity like this come to our neighborhood where homelessness and re-gentrification run rampant. I think that says a lot about the potential of our community and this is definitely a boost for the neighborhood."
Robinson said the bar will celebrate its two-year anniversary in December.
Initially, Greenleaf location scouts approached Robinson to see if the bar was a good fit for the film. After sifting through several bars, location managers selected Juicy's Joint.
"It was very exciting. The community has been so supportive of Juicy's Joint and I think it is awesome that now they can say, 'hey that's my bar' and they'll be very proud to see their local pub on national television," said Robinson.
Robinson said he hopes this leads to future opportunities for the community and that as a business owner, he is committed to being a beacon of hope for the community.
In October, Juicy's Joint, along with several other partners, collaborated to host a Feed the Homeless event at Shoal Creek Park, 3642 Glenwood Rd., Decatur. They also formed a team to participate in the Susan G. Komen breast cancer walk in Atlanta.
For the holidays, Juicy's Joint is gearing up to host a community outreach event on Sunday, Nov. 20, 1 to 4 p.m. at Shoal Creek Park. They will be giving away toiletries, food, clothing, coats and shoes for those in need. Grooming services also will be provided by volunteer barbers and beauticians as well as a mobile shower.