Testingfg of Ads
During the first Saturday of Operation Clean Sweep, DeKalb County crews removed more than 50 tons of debris from a 12-mile stretch of South Stone Mountain-Lithonia, Panola and Redan roads.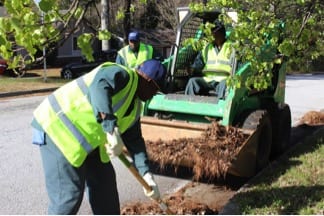 "Operation Clean Sweep is an initiative created by DeKalb CEO Michael Thurmond, voted on by the commissioners and organized across several DeKalb departments," said Director of Beautification Marcus Kellum. "We all know what we need to do, and we're ready to do it."
At the March 11 kickoff, Thurmond honored DeKalb resident Cynthia Houston who helped inspire the Operation Clean Sweep initiative.
"Long before I ever thought about being CEO, I noticed Ms. Houston always out on the side of the road, picking up trash, no matter the weather," said Thurmond. "We're kicking off Operation Clean Sweep today in her honor."
"You have to have respect for where you live and your environment," said Houston. "If you don't, then nobody else will."
On March 18, an Operation Clean Sweep crew will travel north on Panola Road from Snapfinger Road to Salem Road. Motorists are advised to drive with caution around employees and equipment.
Operation Clean Sweep will continue each Saturday through August to clear grass, trash and debris from roadway drains and curbs, mow rights-of-way and remove litter. Crews will focus on 300 miles of major arterial roads first, then work on collector roads and residential streets. Once the initial clearing is complete, street sweepers will service and maintain all 2,000 miles of DeKalb roadway and 4,000 miles of curbs four times a year.
Find updates on Operation Clean Sweep at www.dekalbcountyga.gov/clean-sweep.