Testingfg of Ads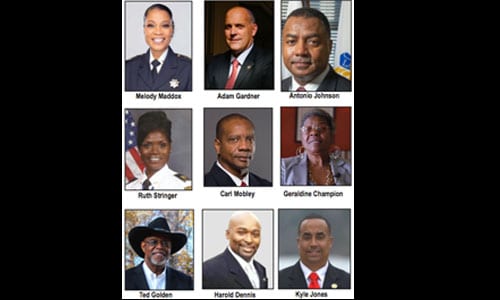 DeKalb County Sheriff Melody Maddox is in a crowded race to keep her job as DeKalb's first female sheriff. Nine candidates, including Maddox, put their bid in for sheriff after the qualifying period ended on Jan. 8.
Maddox, who served as the former Chief of Police for Georgia Piedmont Technical College, will join her competitors in a special election set for March 24 that will fill the unexpired term of Jeffrey Mann. The election will determine who serves the last nine months of Mann's unexpired term, which ends in December 2020.
Mann announced his retirement last November after unsuccessfully fighting the revocation of his certification following his arrest for public indecency and obstruction in 2017. Maddox was chief deputy at the time that Mann announced his departure and was subsequently appointed as the new sheriff. Although she was sworn in on Dec. 1 as the first female sheriff, one of her opponents, Ruth Stringer, is contesting the caveat on her Facebook campaign page in a post stating:
"History always reveals itself
I was Sheriff in 2017 and I am now running in 2020
I am the FIRST female sheriff in DeKalb County
With 30 years of law enforcement experience, I know what it takes to help and change the community of DeKalb County for the better."
Stringer served as DeKalb's interim sheriff in 2017 during Jeff Man's suspension stemming from his arrest for alleged indecency.
All nine candidates hail from law enforcement and public official backgrounds. Four of the challengers previously ran against Mann in 2016.
The full list of qualified candidates, as posted on the Georgia secretary of state's website include:
Geraldine Champion (Non-Partisan), Decatur, Retired Atlanta Police homicide detective who also ran for sheriff in 2016
Harold Dennis (Non-Partisan), Stone Mountain, Former DeKalb deputy who ran for sheriff as a Republican in 2016
Adam Gardner (Democrat), Stone Mountain, homicide investigator for the Fulton County District Attorney's Office
Ted Golden (Democrat), Decatur, Retired Drug Enforcement Administration special agent who also ran for sheriff in 2016
Antonio "Block" Johnson (Democrat), Military veteran, former jailer, currently serving as Marshal for Fulton County Government
Kyle Keith Jones (Democrat), Stone Mountain, Retired law enforcement officer and businessman who also ran for sheriff in 2016
Melody Maddox (Non-Partisan), Incumbent), current DeKalb County sheriff
Carl Mobley (Democrat), Retired DeKalb County police officer
Ruth "The Truth" Stringer (Democrat), Tucker, Marine Corps veteran who briefly served as DeKalb's interim sheriff in 2017
March's special election is nonpartisan and will be the first of several elections this year involving the DeKalb sheriff's position, coinciding with the presidential preference primary.
In the event that no candidate gets 50 percent plus one of the votes cast in the March 24 special election, a runoff election will be held on April 21 between the top two vote-getters. The winner of that election would assume the role as sheriff until the end of 2020, when Mann's unexpired term ends.
Candidates seeking to run for a full term as sheriff will be subject to another qualifying period in March for the 2021 term. The general primary election will be held May 19. The general election will be decided on Nov. 3.
Director of Voter Registration and Elections, Erica Hamilton, said it is not unusual for several candidates to run for the office of sheriff.
"I think the sheriff's race is one of those races that generates a lot of attention when we do have a vacancy. It's not unusual for candidates to run in a race they've run in before. I want to encourage all eligible voters to look at the sample ballot, go out and vote and engage in the electoral process," said Hamilton.
Hamilton advised that Feb. 24 is the last day for the public to register and be eligible to vote in the Presidential Preference Primary, Special Election and Special Election Runoff if one should occur.