Testingfg of Ads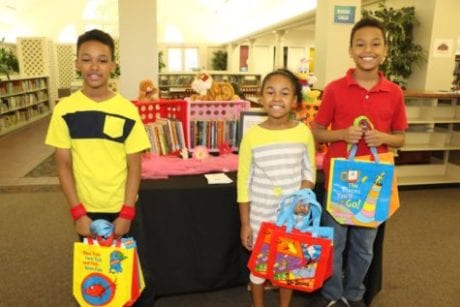 Everyone can make a positive impact on his or her community—even children. Jazlyn Spradlyn, 8, is a shining example of what young people can do to make a difference.
The young Newton County resident is helping her community and the community at large by promoting literacy. Jazlyn and her 11-year-old twin brothers, Jaxson and Jayson, recently spent a Saturday handing out free bags of books at the Covington Library's Book Festival under the supervision of their mom, Marteeta Spradling.
"There is a great need for literacy in all of Georgia, but especially in Newton County, where there are many low-income families," said Marteeta Spradling. "The 2015 Milestone test shows that Newton County's reading proficiency is only 34.9 percent. That's letting you know that nearly 65.1 percent of the county's students are not reading at grade level," Spradling said. "I think it's important for children to inspire their peers and share their love for books."
Jazlyn launched a Book Exchange and Build Your Own Library program with the help of her church, New Covenant Christian Ministries, which received two $500 grants on her behalf. The grants were awarded by Disney's Summer of Service Youth Change Makers and Youth Service America after Jazlyn submitted project ideas on ways to get children to read including hosting virtual book parties and contests on Facebook and giving away gift cards and other prizes as incentives for reading.
At the Covington Library's April 22 Book Festival, Jazlyn showed parents and children how to build their own library as part of Global Youth Services Day. She gave away both new books and books that were donated so families could start their own libraries.
"I love reading and I want other kids to enjoy reading as much as I do," said Jazlyn.