Testingfg of Ads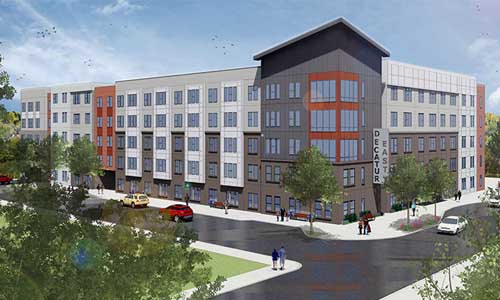 Columbia Senior Residences at Decatur East, an affordable senior housing complex located near the Avondale MARTA station, has opened and is accepting applicants who would like to rent an apartment.
DeKalb County provided $2.2 million in funding to support the development, which is located at 5090 Freeman St. in Decatur.
"DeKalb County is committed to providing affordable housing opportunities for residents," said Allen Mitchell, Community Development director. "The partnership with Columbia Senior Residences at Decatur East will help to expand housing opportunities and improve the quality of life for DeKalb County seniors."
The five-story building includes 92 units with one-and two-bedroom apartments dedicated for seniors ages 62 and older. The building is certified green and amenities include ENERGY STAR® appliances, dining and dance room, business center, movie theater, fitness center, and a pedestrian walk with access to the Avondale MARTA transit station.
The DeKalb County Community Development Department provided HOME Investment Partnerships Program funds to transform a former parking lot and bring new affordable senior housing options to the city of Decatur. HOME funds are provided by the United States Department of Housing and Urban Development to participating jurisdictions to create new affordable housing units.
Additional lenders also supported the project including Wells Fargo as a construction lender and Enterprise Community Investment.
For more information on the applications process for the apartments, contact the Community Development Department at 404-371-2727.