Testingfg of Ads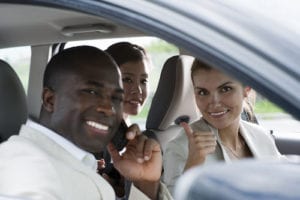 A new iOS mobile app has launched to improve metro Atlanta's air quality and congestion by boosting ridesharing across the region. Georgia Commute Options launched the iOS GAcommuter App on Oct 3 to help commuters find and securely message potential carpool partners near their homes and workplaces.
A program of the Georgia Department of Transportation, Georgia Commute Options offers cash incentives to those who usee alternative commutes such as carpooling, vanpooling, transit, telework, walking and biking.
"We want to remove barriers to clean commuting," says Phil Peevy, Georgia DOT's Air Quality and Technical Resource Branch Chief. "Many commuters mistakenly think they have no options for ridesharing; this app can show them that dozens of potential carpoolers live in the vicinity of their homes and workplaces — and help them contact those carpoolers directly."
As an incentive to download and use the GAcommuter app, Georgia Commute Options is offering a $5 prize to any commuter that logs 5 trips between now and March 2017. In addition, those users will be entered into a weekly drawing for $25.
Currently available on the iOS App Store, the GAcommuter Andriod version launches in early 2017.
Follow Georgia Commute Options on Twitter at https://twitter.com/GACommute. Follow Georgia Commute Options on Facebook at https://www.facebook.com/GeorgiaCommuteOptions. Follow Georgia Commute Options on Instagram at https://www.instagram.com/gacommute/.