Testingfg of Ads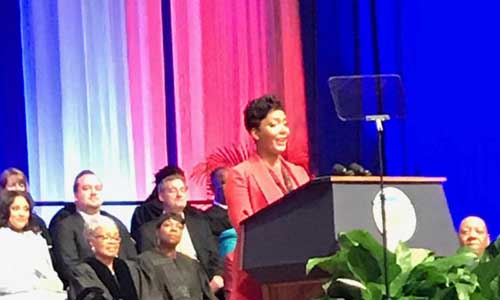 Photo by Ceasar Gaiters
Atlanta Mayor-Elect Keisha Lance Bottoms, city leaders sworn in today
Keisha Lance Bottoms was sworn in on Jan. 2 as the 60th Mayor of the City of Atlanta, along with the Atlanta City Council President, Atlanta City Councilmembers and Atlanta Municipal Court Judges.
The inauguration was held at 1 p.m. at the historic MLK Jr. International Chapel at Morehouse College.
Bottoms is only the second woman to be elected to the city's highest office following Shirley Franklin. Bottoms defeated Mary Norwood in a Dec. 5 runoff, to succeed Kasim Reed.
Congressman John Lewis, former U.S. Ambassador Andrew Young, former Atlanta Mayor Bill Campbell and Reed were among the dignitaries who attended the inauguration.
Bottoms will host a citizen's reception today at 5:30 p.m. in the City Hall Atrium, 55 Trinity Ave. S.W. The event is free and open to the public.