Testingfg of Ads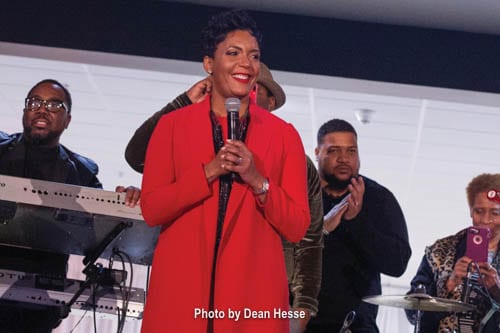 The New Year ushered in new leadership for the City of Atlanta. Keisha Lance Bottoms was sworn in on Jan. 2 as the 60th mayor of the City of Atlanta. The Atlanta City Council President, Atlanta City Councilmembers and Atlanta Municipal Court Judges were also sworn in during the historic inauguration. The new leaders took their oaths of office at the MLK Jr. International Chapel at Morehouse College before an audience of more than 2,000 residents, community representatives, dignitaries and elected officials. Out-going Mayor Kasim Reed, Congressman John Lewis, former U.S. Ambassador Andrew Young and former Atlanta Mayor Bill Campbell were among the dignitaries who attended the inauguration.
Bottoms is only the second woman to be elected to the City of Atlanta's highest office, following Shirley Franklin. Bottoms defeated Mary Norwood in a Dec. 5 runoff, to succeed Kasim Reed.
During her inaugural address, Bottoms announced her commitment to prioritize affordability, transparency, public safety, education, and transportation in her first 100 days in office.
"I am honored to have the privilege of serving the people of Atlanta, and I am thrilled to serve as only the second woman mayor of our great city," said Mayor Bottoms. "As the 60th mayor of Atlanta, I will seek a new understanding, one grounded in civility and productive dialogue, to build a greater Atlanta. Within my first 100 days in office, we will take measurable actions to prioritize equity, affordability, a stronger school system, and access to transit. The theme of our campaign was 'Keep Atlanta moving forward, leaving no one behind,' and that is what I intend to do as mayor."
Bottoms also pledged to roll out a $1 billion-dollar affordability plan – the largest affordable housing investment in the City's history. She also announced her commitment to introduce a sweeping ethics and transparency reform package that will ensure the City's contracting and procurement process is beyond reproach.
As an advocate for education, Bottoms announced that she plans to appoint a Chief Education Officer to her senior staff.  The position will act as a liaison between the Administration and Atlanta Public Schools and provide counsel to the mayor on issues of early childhood education, vocational training and apprenticeships. Mayor Bottoms also announced her intention to establish a college savings account initiative for all students enrolling in Atlanta Public Schools.
"Thanks to generations of tremendous leadership, the bar has been set incredibly high for our city. I thank everyone for your belief in me, and for your belief that, as one Atlanta, we can raise the bar higher still," Bottoms said.
Additionally, Bottoms announced her goal of achieving a AAA credit rating, the highest rating possible for a municipal government, for the first time in the City's history. She announced an expansion of the Clean City Initiative to beautify highway entry and exit ramps throughout the city stating that Atlanta's infrastructure and credit should reflect the city's world-class status.
Following the inauguration, Bottoms hosted a reception in the City Hall Atrium, 55 Trinity Ave. S.W. The free event was open to the public. City officials said the inauguration events were paid for by various Atlanta-based companies and sponsors.