Testingfg of Ads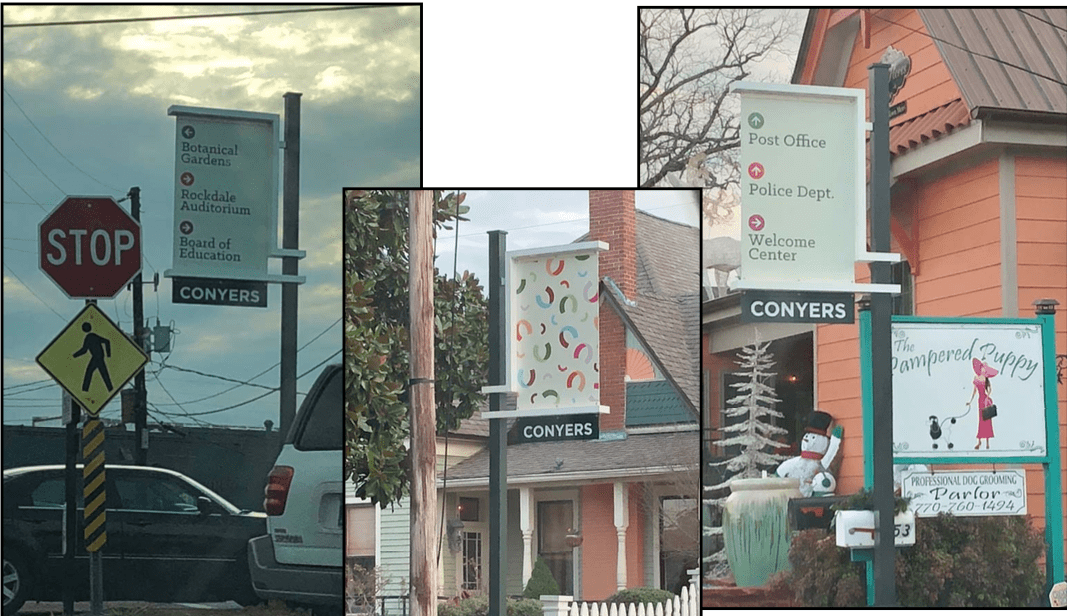 Colorful signs denoting the Conyers historic district, landmarks and attractions in the Olde Town Conyers area have been installed, as the first phase of the city's directional signage program gets underway.
The first phase includes two monument-style primary signs at major gateways where the city limits begin, two smaller monument-style signs on secondary roads within the city limits, 14 vehicular directional signs, seven downtown identification signs, eight parking signs, as well as 19 street identification signs in Olde Town Conyers. 
The Conyers City Council and staff reviewed and approved renderings of a variety of wayfinding signs at the city's annual planning retreat last January. Renderings were designed by representatives at Atlanta-based Sky Design based on the city's rebranding and new logo created by Rhyme and Reason (R&R) Design in 2017. The first phase of the signage program was submitted for bid and the contract was awarded to Charlotte, North Carolina-based ACSM, Inc. in July 2018. The program has been under way since with completion expected by early spring, officials said.
"The wayfinding signage program was a goal in the city's strategic plan and also a recommendation of the Georgia Department of Economic Development Tourism Product Development Resource Team following their visit to Conyers in late 2016," said Mayor Vince Evans. "We really felt this was something needed to help newcomers and visitors, whether in vehicles, on bicycles or on foot, identify key locations in and around Conyers and hope to expand the sign program throughout the city limits in the future as the budget allows."