Testingfg of Ads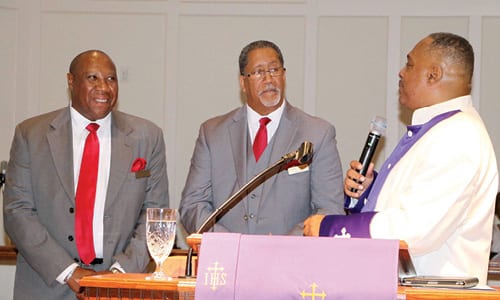 Stonecrest Mayor Jason Lary has been elevated to another level of service. Lary was ordained a deacon at Union First Missionary Baptist Church during the Lithonia church's Aug. 5 worship service.
Pastor Edward. L. Randolph, Jr. performed the ordination for Lary and Deacon Reginald Veasley, praying for both men and their wives, Debra "Debbie" Lary and Angel Veasley.
"Serving as a deacon is a very important role. When we look at candidates for that office, the bible says in Acts that there are three qualifications: a man of good rapport, filled with the Holy Ghost and wisdom," said Pastor Randolph, who said he himself was a deacon. "Their job as deacon is that of a servant. It's servant leadership. These two men have gone through over a year and a half of intense training of all the things they need to know from a spiritual perspective and a practical perspective—from visiting the sick to leading certain aspects of the worship service on Sunday. They have supported me in ministry and the congregation."
Pastor Randolph said the deacons are not only held in high esteem, but so are their spouses. He said that was why it was important for the spouses to participate in the ordination.
"They  have exhibited the same characteristics of serving in supporting their husbands and the ministry," said Pastor Randolph.
Pastor Randolph said the deacons had to pass a catechism, an oral examination where they are asked several questions about the bible and the Baptist Church's doctrine before being ordained.
Lary said he was very humbled that Pastor Randolph chose him and "I was so honored after passing the test and going through the ordination. I got to wear my white gloves and perform Communion for the first time," said Deacon Mayor Lary, who has been a member of Union First Missionary Baptist Church for 10 years.
Lary said he knows his father, who passed away in May 2017 after a long illness, would have been proud of him.
"I grew up in the Baptist Church. My dad was a deacon. I could feel him smiling down on me," said Lary.
Lary, 56, said the ordination was a pivotal chapter in his life.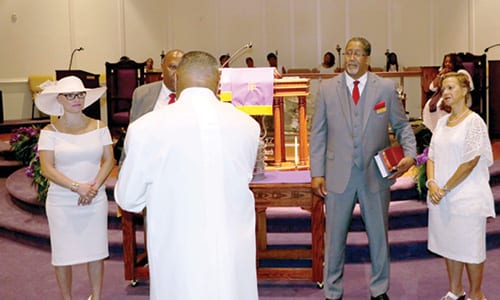 "The five most important things for me in life have been finding Debbie, the right woman to be my wife; the births of my two sons (Jason and James "Jamie"). Unequivocally, my two boys have been the best kids in the world.  If I could wear their faces on my shirt every day, I would. They are really great citizens. I am so proud of them; becoming a deacon; creating the city of Stonecrest; and becoming mayor," said Lary.
Lary said his role as the city's inaugural mayor and his role as a deacon at his church  "all comes down to service" in the community.
"I was serving as a deacon before my ordination and my responsibility was to check on the elderly and make church repairs. That's what I will continue to do," said Lary.
Pastor Randolph said Deacon Lary and Deacon Veasley have been embraced by the church's congregation.
"I know they are going to do well in their roles," said Pastor Randolph.