Testingfg of Ads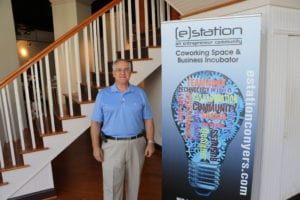 CONYERS–Scott Hartsell has big plans to help start-up businesses grow into solid, thriving companies and he's using Olde Town as a launching pad.
Hartsell has transformed office space at 909 Commercial St. into a business incubator called (e)station Conyers, Inc., playing off the building's location near the city's former train depot. The incubator, Hartsell says, will be the first in east metro Atlanta. He cites Cornerstone (Lawrenceville); The Suite Spot (Sugar Hill; eHub (Gwinnett) and 438 Grayson Parkway in Grayson as the closest coworking incubator near Conyers.
At (e)station Conyers, entrepreneurs will have the opportunity to not only lease office space, but also take advantage of training and other amenities that will be offered to incubator members. Hartsell said studies show that more than 80 percent of all businesses that fail go out of business within the first two years, namely because they lack the resources and the information they need to be successful.
"The idea is to bring businesses to Olde Town and provide start-ups with the tools and services they need in one place to succeed," said Hartsell, director of (e)station Conyers. "We will offer workshops and a variety of experienced people to provide legal assistance, human resources, financing, and classes such as accounting, how to use Word Press, marketing and more. Businesses will graduate from our program in two to three years."
Hartsell said (e)station is hosting an open house on Tuesday, Nov. 1, 9 a.m. to 7 p.m., to give visitors a chance to learn more about the public-private partnership, which allows the offices to operate off of the leases. Hartsell is partnering with the Conyers-Rockdale Chamber of Commerce, Georgia Piedmont Technical College, Rockdale Career Academy, Conyers Downtown Development, SBDC/UGA and SCORE, a nonprofit organization dedicated to helping small businesses, to provide expert training, mentors and other resources.
Hartsell describes the two-story (e) station building as eclectic with its hardwood floors, concrete and painted walls, exposed pipes and a phone booth designed after the call boxes in the TV show "Dr. Who." The 5,000-square-foot building was formerly the law offices of Jorge Luis Flores.
"I like the Dr. Who phone booth. It's fun. We wanted to create an environment that fosters creativity and connectivity," Hartsell said about the renovations. "There are co-working spaces and private offices People will have the opportunity to network and share ideas as well as work independently."
The incubator will serve four businesses at a time in its upstairs offices, while the downstairs will house a co-working space where member businesses can have access to a workspace and small conference room. There also will be eight spaces for daily drop-in users, a bar offering complimentary coffee and tea and 20 hot desks with large monitors, USB charging ports, AC power and high speed Wi-Fi. Coworking spaces such as the one at (e)station are becoming more and more popular for professionals, technologists, programmers and other creative types who work at home, on their laptops or even on their cell phones. Hartsell said the number of global coworking facilities has been doubling in number each year as digital professionals seek to avoid isolation. Small Business Labs project that some 12,000 global co-working spaces are expected to be operating in 2018.
Hartsell said (e)station Conyers will be open Monday through Friday, 9 a.m. to 7 p.m. Memberships start at $95 a month, depending on amenities.