Testingfg of Ads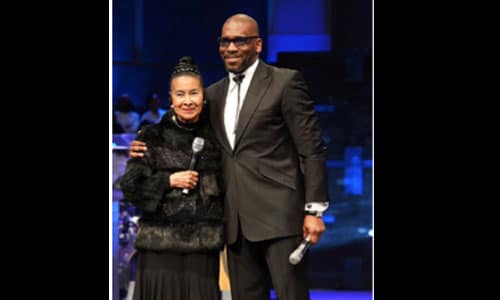 Xernona Clayton and Dr. Jamal Harrison Bryant pose during the Feb. 2 "Living Legends" recognition.
Andrew Young, former Atlanta Mayor and United States Ambassador to the United Nations , will be honored as a "Living Legend" at New Birth Missionary Baptist Church on Feb. 9. The 87-year-old civil rights leader will be recognized during a special portion of the 10 a.m. worship service by Dr. Jamal Harrison Bryant as part of the church's Black History Month celebration.
Each Sunday, during the month of February, the New Birth congregation will recognize the contributions of notable African-American icons whose contributions have broken barriers and made a considerable national and global impact.
Young, who worked as a leader in the Civil Rights Movement and executive director of the Southern Christian Leadership Conference, served as a United States congressman and later, the 55thMayor of Atlanta. Noted for his role in drafting the Civil Rights Act of 1964 and the Voting Rights Act of 1965, Young now works on a number of national and global initiatives through Good Works International.
"We stand on the shoulders of giants like Ambassador Young as well as so many others and we all owe them a debt of gratitude that can never be repaid," said Bryant. "Ambassador Young is an esteemed international leader and living legend who continues to serve as an unmatched force for global good who embodies the spirit of the Civil Right Movement."
Civil rights leader and Trumpet Foundation creator Xernona Clayton was honored by the Stonecrest church on Feb. 2. Clayton, 89, was the former aide to Dr. Martin Luther King, Jr. and organizer for many key initiatives of the Civil Rights Movement and the SCLC.
"Mrs. Clayton is still making an impact today and her legacy has helped defined a movement that changed the nation and the world," added Bryant. "New Birth is celebrating the life and legacy of trailblazers who relentlessly demanded justice and equality so future generations could have the opportunity to go further and dream bigger than those before them."
New Birth will honor Congressman John Lewis on Feb. 16 and the Rev. Charles Steele, Jr. will be honored on Feb. 23.