Testingfg of Ads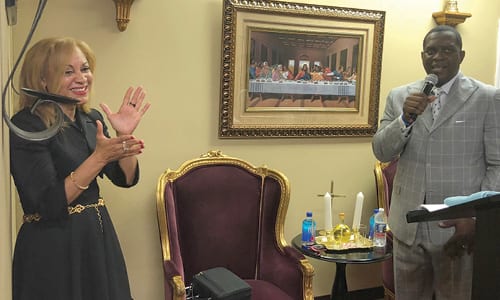 By Valerie J. Morgan 
God's people—the Face of Victory Church and Voices of Faith Ministries—tore down a wall of pain and built a bridge of love on Aug. 26. Ripped apart by the divorce of their beloved pastors in 2011, members of the two congregations came together, rejoiced and worshipped at the Face of Victory Church, located in Decatur.  
The celebration marked the 7th anniversary of the Face of Victory Church, founded by Pastor Debbie E. Hawkins. 
Bishop Gary Hawkins, Sr., joined by his new wife, First Lady Pamela Hawkins and their 4-year-old son, Garrison, was the guest speaker for the momentous occasion. Bishop Hawkins and Pastor Debbie Hawkins' eldest son, Minister Gary "G.J." Hawkins, Jr., also attended the service with other members of Voices of Faith, which has a campus in Stone Mountain and one in Conyers.   
"Some of you were probably wondering when Pastor Debbie announced that Bishop Hawkins would be speaking here today, 'What in the world is going on?'" said Bishop Hawkins, smiling, as the crowd exploded in laughter. "Well, the kingdom of God is moving…God told me to tell you that I'm here so that there may be restoration at Face of Victory and at Voices of Faith." 
Bishop Hawkins said that God used his and Pastor Debbie Hawkins' youngest son, Kalen, to bring about forgiveness, reconciliation and restoration.  A year ago, Kalen was diagnosed with cancer at age 22. The news brought the blended family closer together to petition God for Kalen's healing: Gary Hawkins, Pamela Hawkins, Debbie Hawkins and their seven children.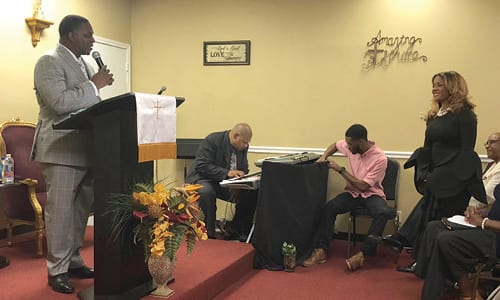 "We've always supported one another when it came to our children. But we really didn't have a relationship from the perspective of a friendship after the divorce. God used Kalen to bring us together where we were forced to sit down and bring about reconciliation, along with restoration. It allowed us to focus on Kalen. We put down everything—cancelling speaking engagements, all of those things—to be by Kalen's bedside night and day at the hospital," said Bishop Hawkins. "This month, the doctor called us in and said after going through one year of chemotherapy and a bone marrow transplant, Kalen is 100 percent totally free of cancer."  Kalen's big brother, G.J., was the bone marrow donor.  
The month of August, Bishop Hawkins added, also is significant not only to the Hawkins' family but the two church ministries he and Pastor Debbie Hawkins' founded as well. The Face of Victory was birthed in August. Voices of Faith was birthed in August 24 years ago, he said.
"It's not by coincidence that I'm here during this season," Bishop Hawkins explained regarding Face of Victory's 7th Anniversary Celebration. "Face of Victory, you had to go through what you went through because God used pain to stir up believers. The number seven is for completion and redemption. God says, 'I'm shifting you from pain to glory.' He has brought everything full circle. Whatever you've been struggling with, He's about to bless you tremendously. "     
Pastor Debbie Hawkins said the power of God that the two congregations and their friends witnessed at the worship celebration was an awesome experience.  
"What does forgiveness and restoration look like? It looks like a Paul, a David, a Rahab (all biblical figures who were forgiven of their sins and shown God's favor). It looks like a Gary Hawkins, Sr. and a Debbie E. Hawkins!" said Pastor Hawkins.
The Face of Victory Church is located at 5304 Panola Industrial Blvd., Decatur. Sunday school is held at 9:30 a.m. and Sunday worship is at 11 a.m. On Tuesdays, the church's prayer service is at 6:30 p.m. and bible study follows at 7 p.m. Mid-week worship services are Wednesdays at 7 p.m. on Facebook live.