Testingfg of Ads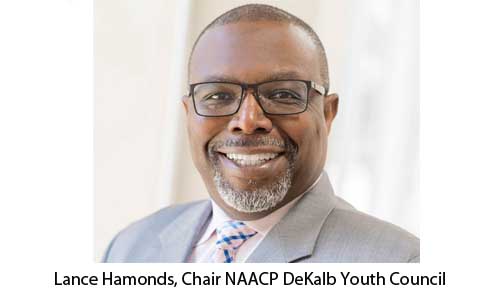 DECATUR, GA—The National Association for the Advancement of Colored People (NAACP) DeKalb County Branch will host its virtual Youth Council Meeting on Feb. 20, 2 p.m. The council will plan its annual activities, elect officers and receive their Black History Program assignments.
The council is excited to have guest speaker, Temple Lester, a 13-year-old creator of "STEM Girl Swag." The Science Technology Engineering and Mathematics (STEM) entrepreneur's goal is to encourage more of her peers, especially girls, to take an interest in science, the DeKalb NAACP said in a news release.
"We encourage youth to register and become trained leaders to enhance the betterment of the community," said Youth Council Chair Lance Hammonds. "Youth should not be passive participants in the conversations about their future. They should be active in creating their future."
Youths who attend the virtual meeting will participate in the virtual NAACP DeKalb Black History Program on Feb. 27, 10 a.m.
Teresa Hardy, president of the NAACP DeKalb branch, is urging youth participation in the virtual council meeting on Feb. 20 and community participation for the Feb. 27 virtual program.
"It is important now that we raise up a new generation of leaders, so they know and understand how they play a vital role in the advancement of their community," said Hardy.
Youths can register at www.naacpDeKalb.org to attend via Zoom using Meeting ID: 823 4813 9660. For more information contact the Youth Council Chair Lance Hammonds at 404-241- 8006 or info@naacpDeKalb.org.