Testingfg of Ads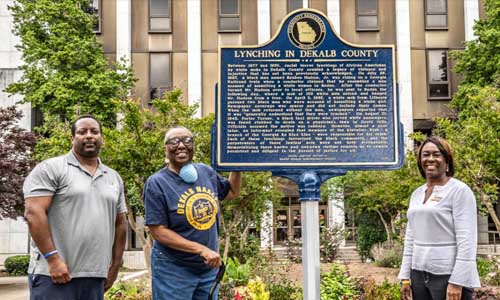 DECATUR—The NAACP DeKalb County branch, Remembrance Project Coalition and Equal Justice Initiative are making sure that four black men from DeKalb County and thousands of other black lynching victims across America are never forgotten.
The DeKalb civil rights organization worked with the Equal Justice Initiative to erect a blue historical marker in front of the DeKalb County Courthouse to memorialize the thousands of black men, women and children who were terrorized and violently killed by white mobs between 1877 and 1950.
D.E. Smith, who serves on the NAACP DeKalb's executive committee and who chairs the DeKalb Remembrance Project, said a diverse coalition of more than 60 volunteers helped bring the project to fruition. The Engraving House, a black-owned business in Lithonia, installed the marker ion May 14.     
"It is such an emotional moment for me because it is actually going up," Smith said at the installation.  "A lot of working hours went into this."
Smith acknowledged that while there may have been other lynchings in DeKalb County, the four men memorialized are victims who were documented through research.
Smith said the NAACP DeKalb got involved in the Remembrance Project after  members of the NAACP DeKalb visited the National Memorial for Peace and Justice, which opened in downtown Montgomery, Alabama on April 26, 2018. The memorial was founded by the Equal Justice Initiative to commemorate past racial terrorism and advocate for social justice and is working to have markers placed in other places where lynchings have occurred.
"If you have not been to Montgomery, you want to put it (the memorial) on your bucket list," Smith said.
On one side of the DeKalb marker, the history of the four documented lynchings in DeKalb are noted, while the other side of the marker notes the era of lynchings and white supremacy throughout the U.S. following the Civil War.
DeKalb NAACP President Teresa Hardy said that racism and violence against blacks continues today, citing the Ahmaud Arbery murder case in Brunswick, GA.  Three white men were recently charged with the murder of Arberry, a 25-year-old, unarmed, black man who was ambushed and shot to death as he jogged through a white neighborhood. A video of the attack, recorded by one of the suspects, went viral, drawing national attention in early May.
"This is modern-day lynching," Hardy said. "Racism did not leave us. White supremacy did not leave us."
Smith said the marker at the DeKalb County Courthouse is the first of three to commemorate the DeKalb lynching victims. Smith said that a marker also would be erected in Druid Hills where Porter Turner, a taxi driver was killed on Aug. 21, 1945 by a branch of the Ku Klux Klan. A third marker will go up in Lithonia, where two unknown black men were lynched on April 3, 1892 after they were accused of assaulting a white girl.