Testingfg of Ads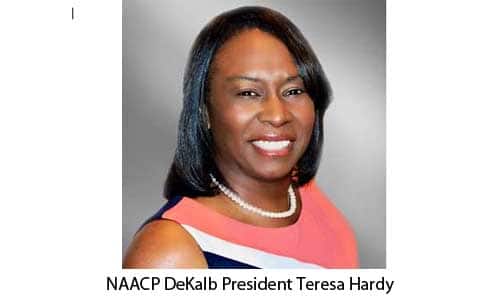 Decatur, GA—The National Association for the Advancement of Colored People (NAACP) DeKalb County Branch will host virtual events throughout February in observance of Black History Month.
"This is a time for the black community to refocus and build upon what we have learned over the past years, that Black Lives Matter, Black Votes Matter, Our Voices Matter," said NAACP DeKalb President Teresa Hardy. "It is now time for us to unite and demand freedom, justice and equality. We are more than 28 Days (the shortest month in the year)!"
NAACP DeKalb and Community Social Justice of House of Hope ATL will kick off the celebration with the State of the Black Community themed "Our Voices Matter" on Friday, Feb. 5, 7 p.m. The diverse group of panelists for the virtual program include Attorney Robert James, State Rep. Billy Mitchell, the Rev. Steven Dial, Sr., pastor of Rainbow Park Baptist Church, and businessman Matthew Hampton.
The national NAACP will celebrate its "Founders Day," marking 112 years as the oldest civil rights organization on Friday, Feb. 12.
NAACP DeKalb Youth Council will present the "We Are More Than 28 Days" Black History Month Program on Saturday, Feb. 27, 10 a.m.
All of the events are free and will be streamed online. For more information and to register for the events, contact the DeKalb NAACP branch website: www.naacpDeKalb.org, 404-241- 8006 or e-mail info@naacpDeKalb.org.