Testingfg of Ads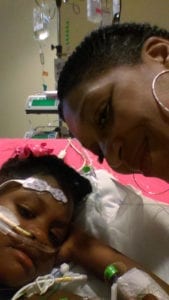 James Lewis, who heads the N the Zone Motorcycle Club, says his group is doing a charity ride on Sunday, June 12, to help provide financial assistance to a 4-year-old girl who recently had a heart transplant. The group and the N the Zone Social Club for women—the Pearls—will meet up in the parking lot on the Macy's side of the Mall at Stonecrest in Lithonia, at 1 p.m., to ride to Athens.
Lewis said the 28 members of the club felt compelled to help when they learned about the child and her mother. They decided to make the ride a fundraiser with participants paying to ride as a group.
"The child's mother had to quit her job to take care of her. We just want to do whatever we can to try and help them. That's what our club is all about—serving the community," said Lewis.
Shanquelle Jernigan says she is raising her young daughter, Jakiria Geter, alone. She quit her job at a poultry plant to take care of her full time as the child recovers.
"She's doing well but she needs me 24-7," said Jernigan.
Sheila Weaver, vice president of the N the Zone Social Club for women, said she has been helping Jernigan out with necessities but realized that she is going to need more help since she has no income now.
"I would hope someone would do the same for me. We all have to help one another," Weaver said.
Lanier Levett, who is a member of N the Zone, says he is looking forward to the ride and helping provide assistance to the little girl.
"I think it's a good event and we hope more riders will come out to support this worthy cause," said Levett.
Anyone who would like to participate may show up for the event and pay when they arrive. The ride is $5 per person and $10 for passengers.