Testingfg of Ads
by Mark Brock, DCSD Athletics Department
A nice day for field events and track preliminaries on Saturday finished with defending champions Miller Grove Lady Wolverines and Lakeside Vikings holding leads heading into the track finals set for today, March 27, at Godfrey Stadium.
The finals were moved from Monday to today due to the high winds and cool weather. The girls' 4×100 meter relay gets things started at 4 p.m.
Miller Grove is the defending girls' champ and has jumped out to an early 50-29 lead over Cedar Grove with two wins and second in the field events and a victory in the 1600 meter run.
De'Asia Keller won the triple jump (33-09.00) while Marguerite McGill captured the shot put (34-00.00) to jump start the Lady Wolverine's title defense. McGill also picked up the silver with a second in the discus throw (98-03.00).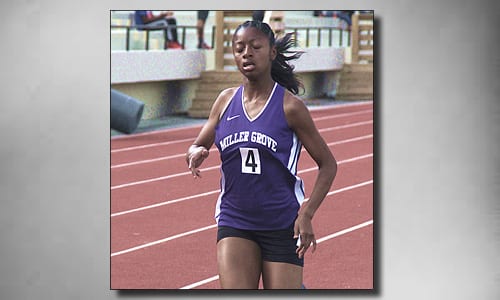 Emoni Coleman, the third Miller Grove junior to gold medal on Saturday, ran to the gold in the 1600 meter run with a time of 5:17.35 to win it for the second consecutive year.
Second (Cedar Grove 29) through fifth (Stephenson 21) are separated by just 8 points including last year's runner-up Arabia Mountain tied with Dunwoody for third with 27 points.
Arabia Mountain collected a pair of gold medals on Saturday as junior Patra Williams captured her second consecutive high jump gold at the County Championships with a leap of 5-02.00 and senior Attallah Smith won the long jump (18-03.00).
Second place Cedar Grove got a gold medal in the discus throw by junior Antania Swain (110-00.00) and silver medals from Mynaisha Mitchell in the high jump (5-00.00) and Niya Walker in the shot put (32.00.00).
Two-time defending boys' champ Lakeside holds a slim 29-28 lead over Southwest DeKalb in the boys' championships. Only 9 points separates Lakeside (29) and eighth place Tucker (20).
The Vikings were led by junior Evangelos Katsoudas with his gold in the pole vault (11-00.00) along with a silver/bronze finish in the 3200 meter run by senior Jake Tubesing (10:01.06) and sophomore Mikias Mekonen (10:02.11).
Southwest DeKalb brought home two gold medals and a silver medal from the first day led by senior Nicholas Edwards victories in the shot put (51-01.50) and discus (155-03.00). Jeffery Hines finished second to Edwards in the discus (133-08.00) for the Panthers' silver medal.
Junior Coleman White was the leader for Martin Luther King Jr. with the gold in the high jump (6-02.00) for the second consecutive year to aid the third place tally after the first day.
Towers was in fourth with 25 points behind a pair of silver medal winners in seniors Demetrius Jones in the triple jump (43-01.00) and Stephen Harris in the shot put (47-03.00).
Other gold medals on the first day came from McNair junior DeMarshae Travis in the long jump (21-06.50) and Dunwoody's Max Moorer, a sophomore, who moved up four places from his fifth in the 3200 meter run in 2017 to a gold medal winner (9:55.74) this year.