Testingfg of Ads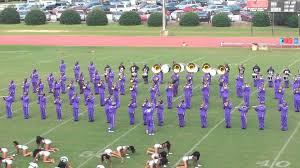 On Saturday, Oct. 21, 1 p.m., DeKalb County's Miller Grove High School Marching Wolverines will host the Third Annual Battle of the Bands' Gym Jamboree, which will be held at the school, 2645 DeKalb Medical Parkway, Lithonia.
Participating high schools in this year's event include Jonesboro HS, Salem HS, Forrest Park HS, Redan HS, McNair HS, Clarkston HS and Creekside HS.
Admission is $10 for advance tickets or $12 at the door. Children under age 6 are admitted free.
Parents and supporters are also urged to mark their calendars for Miller Grove's Homecoming game against Columbia High. The game will be on Oct. 20, at North DeKalb Stadium in Chamblee. Kickoff time is 7 p.m. Tickets are $7.
The Marching Wolverines have been invited to "take the field" at Bethune Cookman College's Homecoming Weekend in Daytona, FL. The band will perform in the homecoming parade, attend the game and perform in the post-game show during the weekend of Oct. 27-29.
In April, the Miller Grove High School's Wind Symphony Orchestra performed in New York City's Carnegie Hall, hailed as one of the premier concert venues in the world. The band was invited to play after Jared B. Brown, Miller Grove's band director, submitted a demo tape.
One of six participating high school orchestras on the program, Miller Grove's Wind Symphony, which is comprised of 55 African American students, received thunderous applause at the concer; and two standing ovations.
For more information, email: mgmarchingwolverines@gmail.com