Testingfg of Ads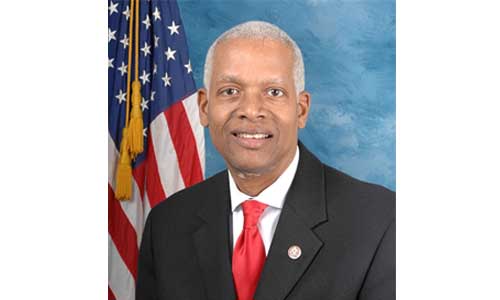 Congressman Hank Johnson
A Michigan man has been arrested and indicted on federal charges of threatening Georgia's Congressman Hank Johnson through a voice mail. Johnson represents the Fourth District, which includes portions of DeKalb,  Gwinnett, Newton and all of Rockdale county. Authorities say the voicemail threat was made because of gun control legislation Johnson introduced.
Johnson told On Common Ground News that the threat was left on his office's voicemail, which was retrieved the next day by a staffer and reported to House security.
 Federal prosecutors say Martin Dale Osborn left a voicemail, saying he would be at Johnson's bedside "knocking the living (expletive) out of you."
"You Democrats go ahead and keep on playing around and get a civil war going in this country," Osborn said, according to the indictment. "Do you remember the Romans? What happened there when they had enough? Yeah, they killed their politicians and the
Johnson introduced a bill to reduce gun violence across the nation in January. The proposed legislation would include creating a federal gun licensing system, banning gun trafficking and the sale of military-style assault weapons. Massachusetts Sen. Elizabeth Warren introduced a Senate version of the bill.
"Perhaps the arrest and prosecution of Mr. Osborne will deter him and others from vile threats to impose their political believes on those with whom they disagree. I feel a deep sense of compassion for people consumed by anger and hatred, and I hope that Mr. Osborne somehow is able to overcome the negativity that he has brought upon himself and I wish him the best," Johnson said.
Osborn was arraigned in U.S. District Court in Western Michigan on July 20 and pleaded not guilty to threatening a federal officer, court records show. He was indicted last week and is free on a $5,000 bond.